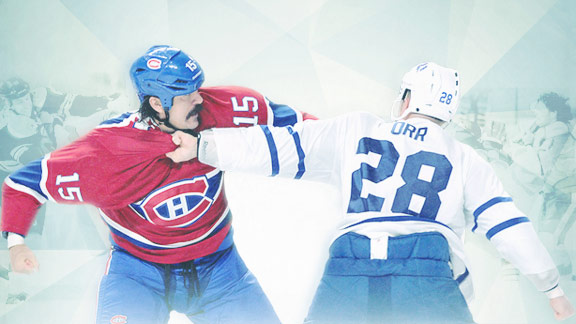 A Terrible Beauty
For a hockey enforcer like George Parros, fighting is his livelihood. Why stop it? Seth Wickersham » MacGregor: Necessary evil? »Anatomy of a fight »Bucci: To fight is to love »Going extinct

ESPN Illustration

BILL SIMMONS PRESENTS

MLB Trade Value Rankings
Evaluating the most valuable assets.
Keri »
Upon Closer Examination
A story too good to be true? McKenna »
B.S. Report. Wesley Morris »


RICK REILLY
Seahawks Savant
Meet Kalee Buetow, a 3-year-old who knows her Seahawks. Watch

MICHAEL WILBON
Until Marc Trestman puts all his trust in his offense, the Bears will suffer. Column »

Chad Millman

Mike Sando

Brock Huard
Watch and participate with "SportsNation" TV, weekdays on ESPN2 at 3 p.m. ET.
SPORTSNATION TV
Would you take Seattle or the field to win the NFC? Is Russell Wilson great, or just on a great team?
Vote »
STILL THE ONE?
Jadeveon Clowney is still considered the top prospect for the 2014 NFL draft. If you were a GM, would you pick Clowney or Louisville's Teddy Bridgewater?
Vote! »