Andy Scott
Commercial Scallop Fisherman
Marital Status: Married
Resides In: Lochfoot, SCO
Participant since: N/A
Age: 59
Competitor since: 2011
Height: 5'10"
Nickname(s):
Weight: 198 lbs
Country: SCO
CAR: 2010 Saab: A commercial fisherman by trade, Andy Scott owns Scott Trawlers, one of Scotland's leading specialist suppliers of fresh and frozen-at-sea King scallops. He is also one of his country's fastest drivers behind the wheel. In 2011, Scott won the British Rallycross Vice-Champion crown and also earned his first podium on the European Rallycross Championship series (3rd, Holland). The father of four boys and two grandchildren, Scott's racing days started back in 1973 when he was the ACU British Schoolboy Motocross Champion.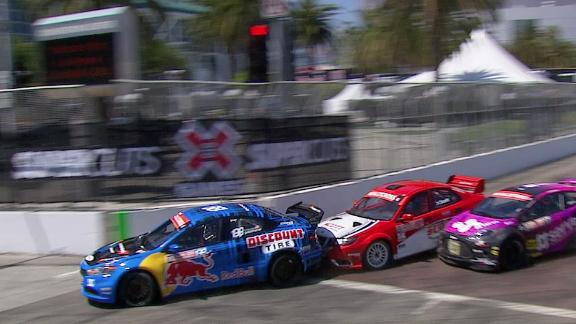 Travis Pastrana was rear-ended in Heat 4 in RallyCross at X Games L.A. 2012.
Video | Jul 01, 2012

Andy Scott rammed Travis Pastrana's car into the wall of the first turn of Heat 4, threatening to bring Pastrana's X Games to an early finish Sunday.
Story | Jul 01, 2012