Marital Status: Single
Resides In: Kansas City, KS
Participant since: 1999
Age: 24
Competitor since: 2008
Height: 5'8"
Nickname(s):
Weight: 140 lbs
Country: USA
Sean was TWS 2009 Rookie of the year and is considered by some to be a freak of nature. The 21-year-old has been good since 13, and he's now a master at rails. Coming from skater-friendly Kansas City, KS (a suburb of KC, MO), Sean finished 10th at his only XG in 2008 and has since gone on to podium at prestigious events around the country, including a win at the Sept. 2010 Street League event in Ontario, CA. He always has a smile on his face, especially when he's skating rails.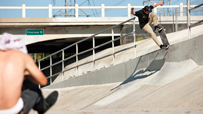 Five years in the making, Pretty Sweet was worth every minute of waiting
Story | Nov 17, 2012

2011 Street League champ Sean Malto traveled the world filming for "Pretty Sweet"
Story | Nov 14, 2012
Chris Nieratko plays with Street League's action figures of Huston, Malto, Taylor and O'Neill
Story | Oct 17, 2012