Marital Status: Single
Resides In: Phoenix, AZ
Participant since: 2000
Age: 23
Competitor since: N/A
Height: 5'7"
Nickname(s): JAWS
Weight: 120 lbs
Country: USA
The 22-year-old Arizona skater was in the Birdhouse video "A Happy Medium 2" out just before his third X Games appearance in 2011. A strong tranny skater with a relaxed style and the ability to Ollie huge drops, "Jaws" is not as ferocious as his nickname might imply. He actually earned the moniker while wearing braces. Aaron has had solid finishes at X Games, his best in 2009 when he placed 7th. He's a true diehard and one of the most enthusiastic skaters in the field. Aaron bought a house across the street from his parents but he's still living at home, where there's always food in the fridge.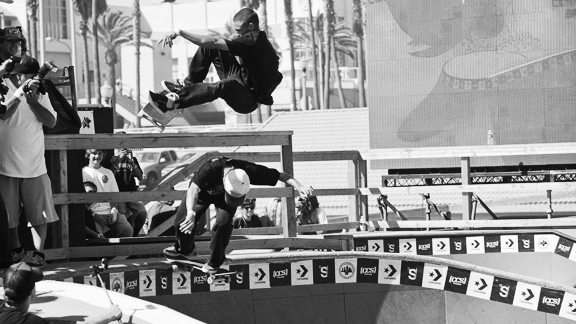 Ben Raybourn wins $20,000 at Converse's 2012 Coastal Carnage
Story | Aug 05, 2012

X Games Skateboarding was at an all time high in Los Angeles
Story | Jul 03, 2012

Nyjah Huston wins Real Street 2012 X Games gold
Story | Jul 01, 2012