Ken Block
RALLY DRIVER, CO-FOUNDER AND CHIEF BRAND OFFICER OF DC SHOES.
Marital Status: Married
Resides In: Park City, UT
Participant since: 2004
Age: 46
Competitor since: 2006
Height: 6'0"
Nickname(s):
Weight: 185 lbs
Country: USA
-2012 Ford Fiesta, "Monster Energy Ford Fiesta H.F.H.V." Formerly a Subaru USA factory driver, Ken switched to Ford for a high-profile effort on the World Rally Championship in 2010 and continued the campaign in 2011, finishing 22nd overall. Shows speed but has had predictably mixed results, with plenty of crashes. In Oct. 2010, he became just the second American to score WRC points (2 points for 9th place: Spain.) A three-time XG Rally Car medalist, he's earned global fame due to his incredible promotional efforts, including the viral Gymkhana series, a heart-thumping driving spot for the 2009 opening episode of UK's Top Gear TV show and a 171-foot jump for an episode of Stunt Junkies (2006).
The most influential athletes, visionaries and more in BMX, surfing, motocross, freeskiing, snowboarding and skateboarding.
Story | Nov 29, 2012
Despite flames, Ken Block tried to keep driving the Global RallyCross Round 6 final
Story | Nov 09, 2012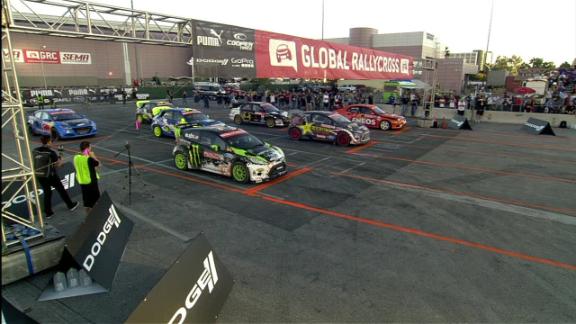 Ken Block wins heat 2A of the 2012 Global Rallycross season finale.
Video | Oct 30, 2012