Tanner Foust
PRO DRIVER; STUNT DRIVER; TV HOST
Marital Status: Single
Resides In: Capistrano Beach, CA
Participant since: 2002
Age: 40
Competitor since: 2003
Height: 5'10"
Nickname(s):
Weight: 160 lbs
Country: USA
CAR: Ford Fiesta: A stunt driver and TV host by profession (currently filming Top Gear USA), Tanner, 39, switched from Formula DRIFT in 2011 to focus on rallycross (European Rallycross Championship; Global RallyCross Championship). He is the first American to win an ERC round (Portugal in May 2011, now has three ERC wins). Has 6 XG Rally Car medals: three gold (2007 Racing, 2010 Racing and RallyCross); two silver (2011 RallyCross, 2008 Racing); and one bronze (2009 Racing). One of 3 to compete at all 6 XG RCR events (Ken Block and Travis Pastrana). Won the season-opening ERC event in Great Britain in April 2012 and is the defending GRC RallyCross champ.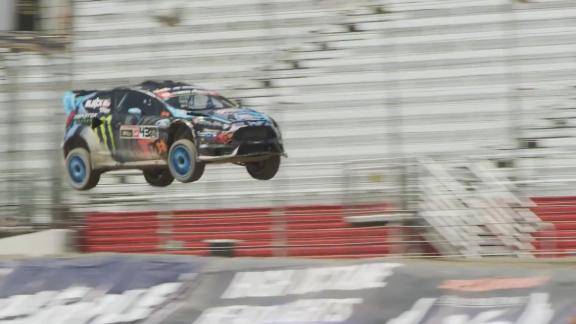 Ford Fiesta drivers had mixed results at the last GRC round in Atlanta, where Toomas Heikkinen won yet again.
Video | Sep 06, 2013
GRC champion Tanner Foust reflects on his X Games experience
Story | Nov 20, 2012

After its second season "all about critical mass," GRC leaders look ahead to bigger 2013 with "operational excellence"
Story | Nov 02, 2012