Marital Status: Married
Resides In: Pearcedale, AUS
Participant since: 1989
Age: 29
Competitor since: 2004
Height: 5'10"
Nickname(s): SINCS
Weight: 165 lbs
Country: AUS
The first rider to land a double backflip in a freestyle competition, Sinclair accomplished the feat June 2009 at the X-Fighters Fort Worth, TX, stop. His success was short-lived, though, when he suffered a life-threatening crash attempting the trick a few weeks later. After a slow and steady recovery, Sincs earned the comeback story of the year when he struck gold a year later as a rookie at XG 2010 (Best Trick, double backflip). He then went on to land his 50th double backflip for XG silver in 2011. Competing in his 3rd XG in 2012, look for Sincs, who will become a dad for the first time in Oct. 2012, to attempt another double backflip variation.
Cam Sinclair discusses his incredible comeback documented on "Twice," the new film that's out on iTunes
Story | Jul 20, 2012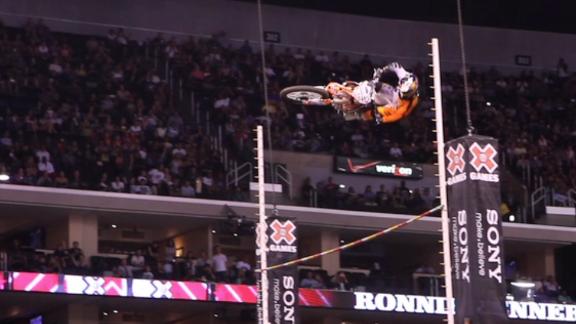 Watch some of X Games L.A.'s ultimate highs and crushing lows from Moto X.
Video | Jul 03, 2012

Jackson Strong wins gold in Moto X Best Trick on Friday at X Games Los Angeles 2012
Story | Jun 28, 2012