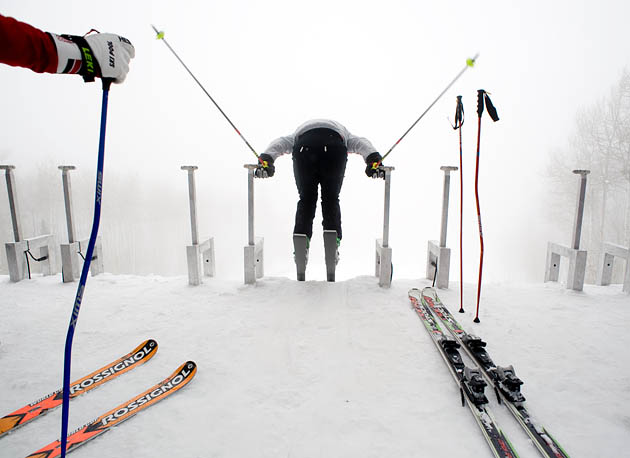 Joshua Duplechian
As the afternoon progressed on Buttermilk Mountain, the weather continued to swing moods like a teenage girl. The fog and snow that plagued the SnowboarderX time trials dissipated as the women took to the course, but just as the run seemed to get worked in, all the nastiness came back. From there, things changed moment to moment with times suffering as a result. When it was done, I asked Casey Puckett, who qualified 13th in the 24 skier field, about the conditions. All he could do was roll his eyes. Fortunately, today's events didn't eliminate anyone from the field, but simply set the heats for the rest of the comp.
The scattershot times will make for great matchups come Sunday, especially in the Men's Final, with a lot of quality skiers matched up against each other. Advancing won't be easy.

More notes:
1. Last week, I emailed Canadian Stanley Hayer before the comp to get his thoughts on a dark horse candidate. His response: "Brian Bennett is on a roll right now, look out for him if he can keep his head on his shoulders." Apparently, Bennett is screwed on tight, because he qualified second. Hayer, last year's silver medalist, came in fourth.

2. 22-year-old X Games greenhorn Brady Leman, who hasn't finished higher than 11th on the World Cup circuit, was a surprise as the top qualifier, earning first gate pick for the rest of the comp. Leman was hauling, too, besting Bennett by over a second.

3. No shockers on the women's side, as Ophelie David, gold winner last year at X and overlordess of the international circuit, was over a second faster than Magdalena Jonsson.

4. Given the length of the course, the tough conditions, and the abundance of practice time, tomorrow's day off will be a welcome break for all the athletes.

5. Chris Del Bosco (12th) didn't seem surprised by the slow times turned in by some favorites. "It's been like that all year on the World Cup. Some really good guys have been qualifying slower. If it's slow when we're racing heats, everyone has to deal with the same conditions, so it'll be good racing either way."

Not everyone seemed as confident as Del Bosco about what'll happen if the course is slow on Sunday. Hopefully things clear up and nobody has to find out.

6. Mono Skier X qualifying was pushed back to Saturday afternoon.

Results: Men

1) Brady Leman, 95.52

2) Brian Bennett, 93.53

3) Tomas Kraus, 93.84

4) Stanley Hayer, 93.87

5) Lars Lewen, 93.91

6) Daron Rahlves, 94.23

Results: Women

1) Ophelie David, 106.05

2) Magdalena Jonsson, 107.26

3) Julia Murray, 107.48

4) Karin Huttary, 109.36

5) Ashleigh McIvor, 110.98

6) Jenny Owens, 111.88