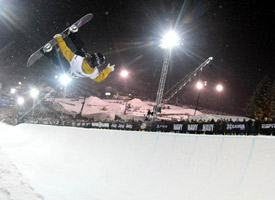 Dave LehlThe Golden Aussie.
Gretchen Bleiler crashed so hard she skipped her third run. There was even helmet examination going on, to see if she cracked her domepiece—after first scorpioning. Kelly Clark went so big that she kept crashing too. And then there was Torah Bright. Perfect Torah Bright, with her perfect switch backside 720. As bronze medalist Hannah Teter summed it up, "She was amazingly on it."
Torah combined both technical skill and style, and even more admirable, she did it all with a bum shoulder. "I have a pretty heavily taped shoulder right now," explained Torah, who has been battling a shoulder injury all season. "I had never had it taped up before, but it seemed to help a lot." Yes, it certainly did.


And then there was second place. If there was any question about the women being able to step to the larger 22-foot walls, Kelly Clark squashed any such thought. In fact, arguably the highest frontside air in any women's halfpipe competition may have been done by Clark tonight. Thing is, she was going so large that it was hard for her to keep it together afterwards, falling in both her second and third runs. When asked about her swollen eye from her last fall on her second run, she quipped, "You should have seen the other guy."


Gretchen Bleiler also had a very unfortunate fall in her second run. Spinning frontside on her first hit, she came down hard on the lip, took a scorpion down the tranny, then smashed her head in the flat bottom. It was the scariest moment of the night, and the entire crowd stood still, waiting to see if she would rise. As Torah said, "We all just kept turning our heads. I hated that they kept replaying it. " She eventually did rise, even with a smile, but chose to call it for the night, skipping her final run.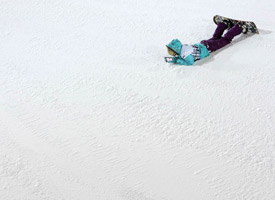 Dave LehlGretchen, down but not ... well, actually she was out.
But as it goes—and this was the case tonight—the bigger you air, the harder you fall. If there was extra carnage tonight, it can only be attributed to how hard the riders were going at it. "I think it has a little bit to do with the progression of female snowboarding right now. We're all just trying to become better snowboarders, and just pushing ourselves in the sport," said Torah. Amen, sister.
The final breakdown:


1. Torah Bright
2. Kelly Clark
3. Hannah Teter
4. Ellery Hollingsworth
5. Kaitlyn Farrington
6. Gretchen Bleiler


Other items of note:


•Torah's winning run: backside 360, switch backside 720, mctwist, air to fakie to cab 720


•No other female rider other than Torah is doing the switch backside 720. "A few of the guys are doing it," said Torah, to which Kelly Clark added: "Very few."


•This marks the first year at X Games that women received the same prize purse as the men. When Kelly Clark was asked about how she felt about this new change, she said, "There is no real difference in the amount of effort you put in or the amount of time spent doing it, you should be rewarded the same."


•Ellery Hollingsworth said she had a secret trick she was going to bust out tonight. The trick? A cab 10, which she did attempt, but couldn't quite pull it around.