SnoCross qualifying just wrapped up and Tucker Hibbert won his heat by a 12 second margin to pave the way for a third straight WX title in the final tomorrow.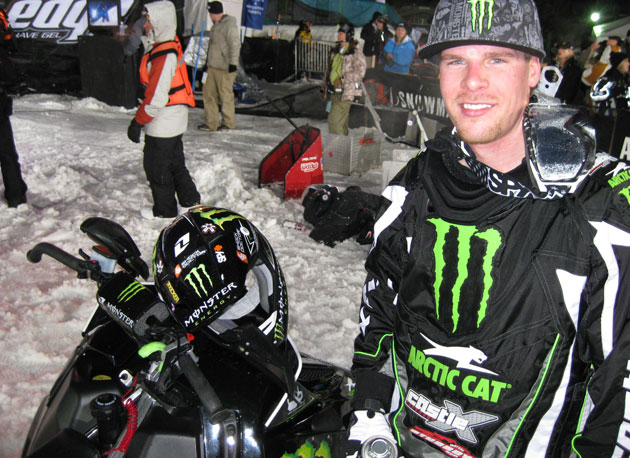 Tim MutrieYes, occasionally Terminators do crack smiles.

Danny Ebert won the other qualifying heat as the top five riders in each heat of 12 earned berths to Saturday's final. The riders who failed to qualify tonight, including Levi LaVallee who finished 6th in the heat won by Ebert, will race again in tomorrow's Last Chance Qualifier.

In the first heat, Ebert, Robbie Malinoski, Garth Kaufman, Brett Bender and Matt Morin all earned front door berths to the final. In the second heat, Hibbert dominated (no surprise there) followed by TJ Gulla, DJ Eckstrom, Dave Allard and Matt Piche rounding out the top five.

Robbie Malinoski: "Fun course man, pretty techy. I was third and [Brett] Turcotte was second. He crashed and I had to jump right over the top of him. My ski almost drove into his head, but I went right over him. If I hadnt, I would've killed him."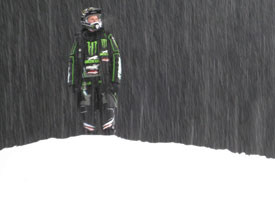 Tim MutrieHibbert climbed atop on the freestyle landings to get a good view of the first SnoCross qualifying heat tonight.

TJ Gulla: "I got a good start even though I had a back gate pick number 10. But the sled's running real good. Catching Tucker? You just gotta be smooth. If I push too hard, it leads to mistakes and the thing it's gonna take is being consistent. He just turns the same lap times again and again and if we can come out together I've still gotta ride my own race to be successful."

Tucker Hibbert: "I felt really good out there. I watched the first heat from up on one of the Freestyle landings and saw where the good lines were and where to go if I had to pass somebody. But right now the sled is running pretty dang fast and I can't say enough for the guys working on it. It's like a rocket. For the final, I just want to do the same thing. Find the good lines early, and I know the sled is gonna be fast, so it's just about lining it all up.