Mat Hoffman Rides Again
In 2007, Mat Hoffman was driving in his Cadillac to pick up his daughter from school, when a semi-truck ran a stop sign and t-boned his car. The impact almost ripped Hoffman's already damaged arm off, leaving him with a partially paralyzed arm. Hoffman believed he would never be able to ride again. But his perspective changed as Dickhouse Productions began production on "The Birth of Big Air," the ESPN 30-For-30 film that documented Hoffman's dramatic journey to build bigger ramps and pursue the unexplored realm of high air. Produced by Spike Jonze and Johnny Knoxville, and directed by Jeff Tremaine, "The Birth of Big Air" inspired Hoffman to get back on the bike. And with the help of a specially designed shoulder harness, Hoffman did just that. In early April of 2010, video surfaced of Hoffman pulling his first 540 in 925 days. Hoffman also performed demos at the Tribeca Film Festival premiere of "The Birth of Big Air," paying homage to the film and the producers. "The power of this project, inspired me enough to overcome my shoulder injury," said Hoffman. And in turn, Mat Hoffman inspired the BMX masses once again.
The Year in BMX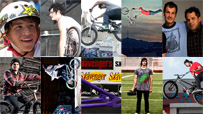 WIDTH="203" HEIGHT="114" BORDER="0" ALT="">
As another year passes, we reflect back on the major BMX stories of 2010. Check the photos. Gallery

Nike 6.0 Team Domination
Lumping four riders into one year-end category isn't necessarily the easiest decision, but when you have four team riders that collectively had one of the best years in BMX, then it's understandable. Such is the case with the original Nike 6.0 crew of Mike Spinner, Garrett Reynolds, Dennis Enarson and Nigel Sylvester. In June, Spinner returned for the Dew Tour Open in Chicago, nailing a quad whip and turndown 1080 in his first run, and holding on to the win at one of the season's first big contests. Meanwhile,
Reynolds and Enarson dominated the contest scene and video scene. And as for Nigel, he shunned the contest scene, and instead released a series of "Go All Day" videos for Gatorade, along with a progressive section in Animal's "Cuts" and wildly successful ad campaigns. Collectively, these four young couldn't be more different, but they brought it like no others did in 2010, and they've still got long careers ahead of them.
The End of the Brooklyn Banks
After over 25 years of healthy sessions by BMXers, the Brooklyn Banks was shut down by the New York Department of Transportation for construction purposes in late June of 2010. Reconstruction on the Brooklyn Bridge led to the closure of the Banks for an indeterminate period of time, with the space to be utilized as a staging area for trucks and construction equipment. Throughout the years, the Brooklyn Banks have become a legendary BMX spot. Currently, the Brooklyn Banks is fenced off and overtaken by the white noise of downtown Manhattan. And what was once a source of enjoyment for many people the world over is just another construction spot. Thanks for the good times Brooklyn Banks.
Head Injuries
Although riders have suffered head injuries in the past, 2010 saw more than its fair share of serious head injuries, including Matt Beringer, Van Homan, T.J. Lavin and Niki Croft. Croft sustained a serious blow to his head in London, UK in Oct., and was placed in a medically induced coma while doctors monitored him for brain and neck injuries. He miraculously walked out of the hospital just two days later, but has battled the trauma of a severe concussion since. "You'll never see me without a helmet. And I hope to see others wearing helmets too," said Croft, adding that riders can learn from his example. "Learn from me. Death isn't cool. And if you're gonna go nuts on a bike, be safe." Truer words have never been spoken. We're just thankful that BMX was able to walk away from a few very harsh punches this year.
New Brands
2010 was the year of the new brand in BMX, and nowhere was that more apparent than at Interbike 2010 in Las Vegas, Nev in the fall. Off the top of our heads, that list looks a little like this. Total BMX, Pilgrim BMX, Bonedeth Bikes, Banned Bikes, Tempered Bicycles, OSS, Hour Footwear, Skavenger, Tripped, Almond Footwear, Cinema, Radio Bikes, The Set, Fairdale, Full Factory Distribution, Cult, Jungle Rider, Fenix, Mission and Deco. And that's only a fraction of the new brands that launched in the past 12 months. The past year also saw the re-emergence of brands that were quietly lying in waiting, such as GT, Coalition, Metal Bikes and Free Agent.
Sponsorship Shake-Ups
There's no way to summarize the dramatic changes of the past year, so we'll instead make a quick list of some of the year's bigger surprises: Anthony Napolitan signs with Red Bull. Edwin De La Rosa and Tom White leave Fit Bike Co. to front Skavenger Bikes, Levi's BMX drops their entire program, Rob Darden dropped from Osiris, Chase Dehart, Dakota Roche, Eric Lichtenberger, Terry Adams, Dan Lacey off Lotek, Dehart on etnies, Roche on Vans, Chase Hawk added to RockStar Energy, Anthony Napolitan and Brad Simms leaves Hoffman Bikes, Simms and Corey Bohan join The Set, Jamie Bestwick and Morgan Wade off etnies, Lil Jon off Kink, Bruno Hoffmann on Federal, everyone gets sponsored by an energy drink and Mike Spinner one ups everyone with Movietickets.com.
New Tricks
2010 saw major advances across the board in street, dirt, park, flatland, vert and MegaRamp. For starters, 360s made the jump into MegaRamp, and riders such as Steve McCann took the mega 360 one step further by throwing 360 tailwhips over the 50-foot jump at X Games 16. But that wasn't the only "big" move in the air: Mike Spinner unveiled the turndown 1080, Chris Hughes started pulling perfect body varials, and Brett Banasiewicz nailed perfect Cash Rolls throughout the year. On the opposite end of the spectrum, Dakota Roche produced what many saw as a game changer in the streets when he landed a perfectly executed kinked rail grind to wallride out on a perpendicular wall at the bottom of the handrail. To Roche's credit, the grind to wallride was well worth the bails, and one of the major highlights of Cult's first full-length video.
Sean Burns at the X Games
Video Overload
Early on, 2010 was dubbed "The Year of the Video," and that couldn't have been more accurate. New videos debuted steadily throughout the year, including stellar releases from United, Animal, FBM, 90east, Bonedeth, Banned, 718, Cult, S&M, Fit, OSS, Props, Stew Johnson and V-Club. And that's just DVDs alone. Naturally, the presence of the Web video made a huge impact on the BMX scene throughout 2010, and I wouldn't even know where to begin to start to list all of the amazing Web videos that I've watched in the past 300 and sixty something days. But it's safe to say that the world of BMX was well documented in 2010. As for our favorites, we're going to have to go with Animal's "Cuts."
Moving On
Some felt it was time to move on and start the next chapters in their lives, beginning with Ian Schwartz. Schwartz left his sponsors, including Sunday and Lotek, and decided to step down from the pro spotlight to concentrate on a family-owned farm in Lancaster, Ohio. After putting in several years as a traveling pro with progressive video parts and innovative bike setups, Schwartz had his fill of the spotlight. In Ian's words, "I reached a point with riding that it just didn't feel the same as it used to." But Schwartz wasn't alone. In March, former X Games pro turned BMX industry icon Jay Miron surprised many by selling his stake in his companies (MacNeil Bikes and Ten Pack Distribution) and essentially walking way from anything bike-related in his life. "After spending my entire life either on a bike, or working in the bike business, I'm walking away from it," said Miron about the decision. Where he was headed is still anyone's guess, but knowing firsthand how dedicated Miron is to whatever he undertakes, we have no doubt that it will be good.