There and Back Again: DuFFS Footwear
It's been a long strange road for DuFFS Footwear BMX TM Brian Osborne.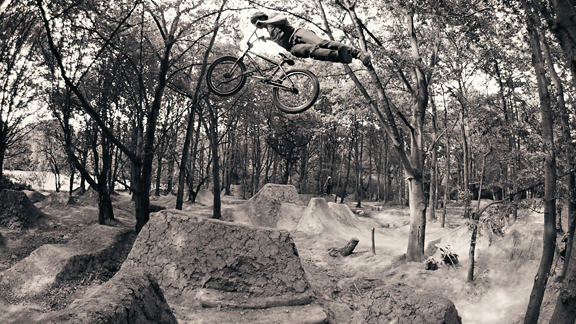 Mark NobleDuFFS pro team rider Mark Mulville shredding -- as usual -- at Chertsey Trails in the UK on the Deluxe trip, fall '09.
DuFFS was, once upon a time, a skate shoe company which was originally co-founded by Steve Rocco in the early' 90s. To say Rocco influenced skateboarding is somewhat of an understatement -- his companies were run as antidotes to the established stale skateboard brands. And because Rocco intimately understood the skate business, all these companies were huge with skaters and became a gigantic success, ultimately ensuring that Rocco would retire as a rich man.
DuFFS Footwear

Founded: 1993
Based: Long Beach, CA
Manufactures: Shoes, softgoods.
Team: Mark Mulville, Jimmy Levan, Kevin Porter, Karl Poynter, Alex Magallan, Jake Seeley

Founded in the early '90s by Steve Rocco, DuFFS Footwear now focuses equally on skateboard and BMX shoe products and markets, creates durable footwear, and has a tight team, stating "These are the jokers we give shoes to." DuFFS is light-hearted, yet gunfighter serious about the product it makes.
So as it happens, DuFFS Shoes was born during a very vibrant state in skateboarding and like so many skate companies before it, it could easily have crashed out in a blaze of short-lived glory -- but it didn't. DuFFS forged ahead, broke away from the vast changes over at Rocco Inc, and started again on its own. To this day, DuFFS is one of the few companies who can hold a respectable and legitimate position in both skateboarding and BMX, and to be honest that's extremely hard to do. It's changed ownership a couple of times, lost its way, found it again, and is currently under the healthy stewardship of some very down-to-earth people.
One of the main men now at the steering wheel of DuFFS is Brian Osborne -- a rider through-and-through. Brian's personal story started out growing up skating and riding bikes with guys like Jimmy Levan -- although this is technically Brian's second tenure at DuFFS. Interestingly, a few years ago, Brian left employ at DuFFS to boldly start his own shoe company from scratch, and so Beloe shoes came and despite Brian's best efforts, sadly went. In all, Brian has a lot to say about the shoe game and inherently understands it on many levels -- so we caught up with him to talk about his work past and present for DuFFS Shoes, the rise and fall of his own independent shoe company, and uncover a few more tales about the kicks industry.
ESPN.com: How's it going today, what's on your to-do list?
Osborne: I'm working in a thousand different directions at the moment.
So what sort of things were you doing before you got into the shoe industry?
I grew up in Louisville, Kentucky. When I was a kid, we all rode trails and skated during the week, and raced on the weekends. I lived about a mile from Jimmy LeVan, so there was always some adventure going on. Louisville has always had a really healthy scene in my opinion.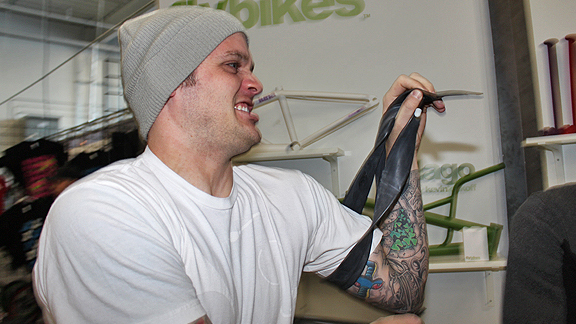 DuFFS' Brian Osborne at QBP's FrostBike Show, winter 2010.
Did you start out with DuFFS then?
My first real industry job was with DuFFs. Before that, I helped Leland a little bit with S-luck, and Jimmy and Joe with whatever I could at Metal.
I know your recent career is like a DuFFS-Beloe-DuFFS sandwich. What inspired you want to start your own shoe brand?
When I was at DuFFS before, we were owned by a really big company out of Canada. That was a good thing in some sense, but not for the most part. We just weren't allowed to make the product that the market wanted, yet when sales weren't there, it was our fault. It's not that the owners were bad people; they just didn't totally understand the business.
So tell us about the early days at Beloe?
Beloe was originally going to be an offshoot of DuFFS. There was a guy that was trying to buy DuFFS, and he was going to let us start a small, limited footwear company on the side. Sort of how Sole Tech has three different companies. Anyway, the sale of DuFFS fell through, and we got a call saying, "if you guys still want to do the other company, we can back you." A couple days later, I put in my notice at DuFFS. Two months after that, we had our first samples. Thinking back, that was definitely the craziest two years of my life.
When starting a brand new shoe company, do you think product first, or marketing first, or team?
The first thought is, "What do we want our perception to be?" After that, the product and team kind of fall into place. Priorities? Whatever needed to be done got done.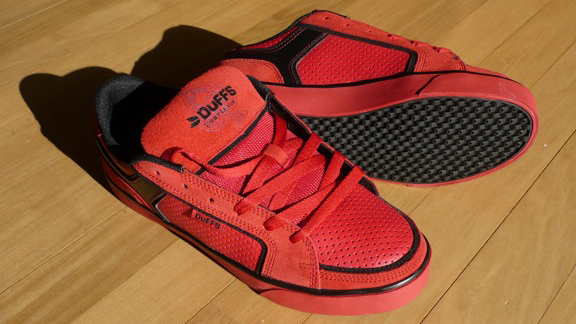 Mark NobleJimmy LeVan has been a long-time pro member of the DuFFS team, should be no surprise there -- here's Jimmy's signature shoe, the Forge.
Were there any problems at first?
At first, not really. We were able to actually focus on building our brand the correct way, and not just try to jam a bunch of product in people's shops. We were backed by some people that seemed to have some cash. 'Seemed' being the key word. When we had started working for 'the backers,' they also had some other new brands that they were backing, and basically, a couple of them didn't take off. Beloe became a casualty of another brand that was started at the same time under their umbrella.
What were your jobs at Beloe -- did you pretty much do everything?
WIth Beloe, it was myself and another person. We basically divided everything between us. We did have help when it came to shooting product and creating ads, etc. from the company that was backing us. They had in-house people that helped the different brands with odd things.
When do you think Beloe started having problems?
The problems began after the first year. Like I previously mentioned, there was another brand that had been started at the same time, and it and Beloe were basically held under the same financial umbrella. That brand had some major, major inventory versus sales issues, and it started to drag Beloe down. Due to that, my partner was let go, and I took Beloe in a strictly BMX direction.
It's a bummer it didn't work out -- I mean, the team looked dialed, the shoes looked okay. What would you have done different, in hindsight?
The shoes got better by the season, and the team was amazing from day one. In hindsight, I would have gotten the team riders some definitive contracts when they started. We put the company together like a family, and there were a lot of 'handshake agreements.' When I would go to the backing company to get money that we owed someone, it was always a battle. Sometimes I won, and sometimes I lost. I still feel guilty about one of my best friends being owed money.
What were the best things about doing your shoe brand though?
The best thing about it, is just having the control over the whole thing, which can also be the worst! If a shoe doesn't sell, it's your fault for making something that sucks. It's a great feeling though to watch something go from a drawing on a bar napkin, to formal drawing, to sample, to production, and then see random people walking around with them on their feet.

It's a great feeling to watch something go from a drawing on a bar napkin, to formal drawing, to sample, to production, and then see random people walking around with them on their feet.
--Brian Osborne/DuFFS
How hard was it to throw in the Beloe towel?
It was the worst day of my life. I had been trying to fully buy the company, but at that point, having perfect credit and a young business that had already turned a profit didn't mean anything to banks. They just couldn't give out any money. I had reached an agreement with our backers, that if I could pre-book a certain amount, they would continue to support the company. I hit their number, and I was told by the president of the company that it was "all good." Then on October 31, 2008, I got a phone call at 10am from their board. They told me that they appreciated everything, but they wanted a 'big company.' Having a niche business didn't interest them. It makes sense, but I still didn't have to like it. That definitely made for a long winter.
So back to DuFFS then. How did that come about?
My comeback with DuFFS was something that seemed to fall into line. The company had been bought by someone that I had previously worked with, and we kept pretty regular contact anyway. After Beloe ended, we would talk here and there about me coming back, but never anything firm. Just kind of shooting ideas back and forth. Five months later, I was back in the saddle.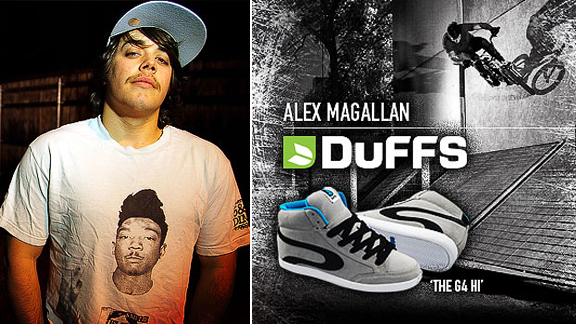 DuFFS BMX team riders Jake Seeley and Alex Magallan.
What's it like working back at the old firm? Did things change while you were away?
There were some massive changes. The company changed hands, and for the better. It's like working at a totally different place.
What lessons learnt at Beloe do you now use at DuFFS?
I learned a lot about production and sourcing when I was doing Beloe. That helps when we're discussing product.
What are your roles at DuFFS now then?
I do whatever is asked of me. I guess my actual role is: BMX Brand Manager, sales, key accounts, get stuff done.
How do you balance your time between the skateboard work and the BMX work you do there?
We have someone else that handles the skate team. I talk to a couple of the skaters, but I haven't had the pleasure to hang out with all of them. As far as sales go, I take them as they come. Whoever needs help or attention. It doesn't matter if it's a skate shop or bike shop, or shoe store for that matter.
What do you think are the main differences between working on skate compared to BMX?
No matter what anyone says, the product is pretty much the same between the two. People want to ride and skate in cool looking shoes that don't blow out after a week.
At DuFFS, what would you say the split is, between BMX and skate?
We try to keep it as evenly as possible. We aren't going for any one specific thing. We're an action sports brand, that's it. 'Skate' shoes have become fashion. There are people wearing skate/BMX shoes that have never thought about touching a skateboard or a BMX bike.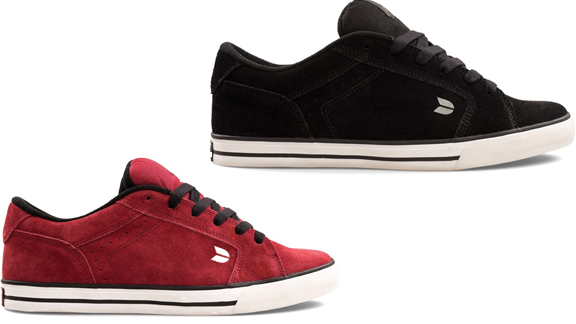 New for 2010: the DuFFS revert model.
How is it working with the team right now?
Our team is rad. We have Jimmy LeVan, Kevin Porter, Mark Mulville, Alex Magallan, Jake Seeley and Karl Poynter. It's a diverse crew of good dudes with their own distinctive styles.
What sort of riders do you look for on DuFFS?
When looking for team riders, you obviously have to be into their style. Both on and off their bike. Then their personality becomes the priority. Not interested in working with people that you don't like -- that's just a formula for disaster.
How does the shoe design process work there then?
For signature shoes, there really isn't a set formula for 'who' gets one. It may come down to someone bringing a great idea to the table. Once it's decided on who's getting a shoe, you have to find out what direction they want to go. When we do a signature shoe, it definitely has to be something that the rider wants. We don't go to the sample room and show someone the shoe we're giving them. They tell us what we want, then Stacy Lowery (DuFFS designer) figures out a way to incorporate it all while still making a shoe that fits our look and product line.
How do you go about marketing DuFFS?
We do whatever we can. Contrary to popular belief, we aren't a big company, and money isn't flowing around the office. There are some big things that we would like to do, but for now, it's mostly grassroots. Web ads where we can get them, rider edits, and just keeping the site updated regularly.
So does your future look good then -- do you think you'll be in the shoe business for a while yet?
I gave up on trying to predict the future a long time ago! I love working in footwear and I have a lot of fun doing what I do. Working for a small company has its pluses and minuses, but I know that working here, my voice is heard, and that matters to me. Hopefully, the company continues to grow, and I get to be a part of it.
To check the latest run of DuFFS, check out DuFFS.com
RELATED CONTENT

Looking for more BMX content? From features to photos to videos; we've got it covered.
ALSO SEE
PHOTO
VIDEO
MORE ACTION SPORTS HEADLINES
MOST SENT STORIES ON ESPN.COM