All year long, the BMX vert circuit seemed like a battle for second place, with Jamie Bestwick customarily grabbing the first place spot. And that proved to be true until the final stop of the 2010 Dew Tour rolled into Las Vegas, Nev. last weekend. Bestwick had not lost a vert contest for over two years, but Failure Bikes pro Chad Kagy brought Bestwick's perfect season on the Dew Tour to an end with height, style and burly tricks that included barspin flairs and back to back flair whips. Recently, we caught up with Kagy to discuss the win, along with the ever-changing world of the pro BMX vert comp circuit. Here's Chad.
Chad Kagy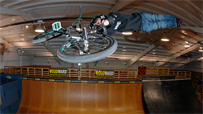 WIDTH="203" HEIGHT="114" BORDER="0" ALT="">
BMX vert pro Chad Kagy is one of the more versatile BMX riders on the scene today. Here's the proof. Gallery

ESPN.com: You've beaten Jamie [Bestwick] before, right?
Kagy: I've got three Dew Tour first places, and an X Games that I beat him at, so four that you could legitimately say I've beaten him at.
Does the pro vert class think Jamie is unbeatable?
We know he's not unbeatable. We just know ahead of time that he's going to get a ridiculous score and that you have to do well. You also have to pre-plan the judges. And it's getting to be a little bit of a pain.
What do you mean by "pre-plan"?
You know before you're even walking into the event, as long as Jamie is staying on his wheels, and he goes, he's going to get a score in the mid 90's. Jamie will agree. We've had discussions about it. Sometimes he feels that he gets judged higher than he should for whatever run he's doing. The height he's going is obviously ridiculous, and with everything combined, the majority of the time, yeah, Jamie definitely deserves to win. Does he deserve the exact score that he gets? Sometimes it's off, but he still deserves to win, so it happens. An example might be with this last event. The score that got him second place, I think it was a 92.25. The past 92.25 runs for him were perfectly smooth and high. This one in Vegas had probably three airs that he was sliding down the side of the ramp, and three more that were slight hang ups, cause the ramp was weird from being built over a pool. Jamie will say the same thing. It was a bit of a surprise to a couple of people that he scored so high. But did he deserve to be in first place at that particular point? Hell yeah he did. But the score was a bit high. That type of stuff is what everybody deals with. You pay your dues, get through it, stick around long enough, and on average, everything works out for you. It's not really going to be one way or the other... It's just tough going up against Jamie cause you have Catfish announcing him as the "World's best" and the "Greatest ramp rider in the world." The judges are hearing that, and then they're also thinking that, so before you even drop in, the perception among everyone is that Jamie is the most unbeatable vert rider in the world. It's tough to do. And I don't like to go the easy route. I've got my work cut out for myself, so I take a different route and do my best. On occasion, it works and I'm happy with that.
src="http://assets.espn.go.com/i/story/design07/dropQuote.gif" />
I'd like to make it so Jamie doesn't quite grasp onto a seventh Dew Cup.
src="http://assets.espn.go.com/i/story/design07/dropQuoteEnd.gif" />
--Chad Kagy
What were your thoughts going into Vegas?
I was going into the event, thinking that my best case scenario was getting second place and holding on to my second place overall Dew Tour ranking for the year. For the most part, winning the Dew Cup was out of the question. I was going into it knowing how dialed Jamie has been riding lately. I haven't been riding as much as Jamie cause I have a lot of other stuff going on in life that needed to be sorted out. Once that's all sorted out, some of it and some of it isn't, I'd say this winter I'll be able to work on a few more things I've been personally wanting to do. Going into the contest though, I pretty much thought Jamie was winning.
And after?
I was kinda surprised. It was rolling into finals, Jamie had some complaints about his back, a pinched nerve or a bulging disc I think. Jamie has had some back problems in the past. If it's your day, it's your day. And if it's not, it's not. Jamie was riding pretty well, and I was happy to put in a good enough run to jump into first place. It was one of those things where I was sort of in disbelief. I didn't have a perfect run. On a normal day, Jamie could've easily cleaned up the run he did and moved up a point and a half.
What are you feelings about next year's vert season?
I've actually thought more about next year than I thought about the Vegas contest. Before Vegas, I didn't have as much time to go into Woodward and ride as I wanted to. Thinking about next year, it's really important to be on top of things as far as competitions are concerned. And there's a lot of riders outside of Jamie that are riding amazing: Vince Byron, Simon Tabron, Steve McCann, and if he can get his head in the game, Jorge Jovel is going to be jumping into a top five guy over the next two years. With all those guys coming in strong, we're really going to have a lot of people competing for the top five next year, outside of the Jamie battle. I'd like to make it so Jamie doesn't quite grasp onto a seventh Dew Cup. There's multiple reasons for that. Obviously, I have my own goals set, but we also changed the format of competition, and that seems to make it more likely that anyone has a chance of winning on a good day. That's why Dennis McCoy finished in third place at this last stop, and Coco Zurita was in the top five in Salt Lake. I'm hoping next year, we get a little more variation of who's in there so it's not a runaway with the Dew Cup. And it makes it more exciting for fans to see too.