Russia is vast.
The country spans nine time zones, with a population exceeding 142 million and a vast array of landscapes. It's also considered one of the world's energy superpowers, boasting mass amounts of oil and natural gas. Even richer than its resources is its history in government, art, science, literature, architecture. This place has it all and yet, for many Americans it remains unexplored.
Kachinsky's Russian Travels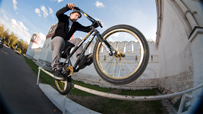 WIDTH="203" HEIGHT="114" BORDER="0" ALT="">
In between contests and rail bombs, Kachinsky sampled the Moscow sights. Here's what he saw. Gallery

Growing up in the US, you can't help but have certain stereotypes about Russia, reinforced by years of schooling and Cold War ideology. After all, they were our "enemy" through many major conflicts, as well as major competition in technology, weapons, space exploration and sports.
In school we learn all of these things, but we don't get to see much the real Russia. Luckily, BMX has allowed me to do that.
I met some Russian BMXers in Estonia during my first visit to Eastern Europe in 2008. And that's where my true curiosity about Russia started to grow. If these people were fierce enemies in our textbooks, why are they giving me a high five after pulling a trick? If these people didn't like us, why are they so happy to buy me a drink? If these people weren't welcoming, why were they be asking me to visit their country?
It turns out I was dead wrong about everything I had known about Russia -- except the cold weather.
When I received an invite to attend the Snickers Urbania BMX event in Russia this past September, I instantly accepted. Upon further research, I kept stumbling across articles talking about "the new Russia," and how their economy had turned around. Of course, I also researched the BMX scene. If you've seen any Russian videos online in recent years, you can't help but be impressed. And if BMX is any indication of the "New Russia," I'd say that Russia is thriving.
And the Russians I met during my trip were by far some of the most welcoming people I'd ever come across in my travels. Alexander Sokolay, his wife Dasha and many of the other riders I'd met there were eager to show me what Russia was all about and wanted to make my experience a memorable one. I rode skateparks, rode street, rode in a demo, went sightseeing, sampled lots of Russian cuisine, did TV interviews and even got to visit the countryside. All of this in an action packed six-day adventure. My girlfriend joined me in the adventure and needless to say, we were both thrilled and pleasantly surprised at the charm that Russia had tucked underneath its previously harsh exterior.
Maybe what I learned in school is true. Maybe the Soviet Union was a dark, oppressive, dangerous place. But maybe not. I will never know for sure.
What I do know is what I saw on my visit to the Russian Federation. And the future is bright, with a BMX scene is on the brink of changing the game. Unknown riders are pushing the limits of riding, and leaving us waiting for the next video. It's awesome to experience people that share the love for BMX that I have. Doing many of the same tricks and in search of the same things we are: fun on bikes, just halfway across the world.
Thanks to the Sokolay family, Snickers Urbania and every single Russian rider I got to meet and ride with. Keep doing what you're doing, the rest of the world loves to watch it.