40,000 fans took Moscow's historical Red Square by storm on Saturday night to watch the twelve best freestyle motocross riders compete in the third stop of the Red Bull X-Fighters World Tour. It was Nate Adams and Levi Sherwood who battled it out in the final match up, and the win went to 18-year-old New Zealand native Sherwood.
The world-famous Red Square, located in Russia's capital city, was transformed into an FMX course like no other for the event. 250 loads of dirt buried the historic cobblestone streets to set the scene for a legendary event that will not soon be forgotten. Sherwood weighed in on the competition: "The tricky course here was just right for me. This day will go down in history." To take the convincing win, Sherwood threw down his deep repertoire of uberly extended tricks without flaw, like his insane ruler flip and seat grab indy flip.
2010 Red Bull X-Fighters World Tour Moscow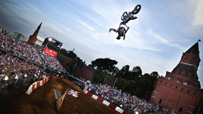 WIDTH="203" HEIGHT="114" BORDER="0" ALT="">
Levi Sherwood takes his first win of the season in Moscow. Gallery »
With soaring temperatures and a sold-out crowd, the conditions were not favorable for most. Adams, who came in second to young gun Sherwood explained, "The pressure was huge, the course was tough and the heat was a problem for everyone." He went on to talk about how honorable it was to compete in such an iconic landmark: "It is an incredible feeling to jump here. The equivalent back home in the USA would be to perform in the garden of the White House!" Adams threw down his typical, yet solid bag of tricks including a 360 nac and an array of flip combos. However, it just wasn't enough to stop the New Zealander teenager.
Norway's Andre Villa finished third in Moscow remains in the overall lead in the Red Bull X-Fighters World Tour 2010, 20-points ahead of Adams. Despite Robbie Maddison's famous long-distance jumps over London's Tower Bridge and the Corinth Canal in Greece, he failed to qualify for the semi-finals after missing a landing on a flip combo-gone-wrong -- nearly taking a massive soil sample. Maddo eventually finished fifth behind Japan's Eigo Sato.
So far, the tour has made stops in Mexico City, Giza and Moscow, and the next event is scheduled for July 22nd and 23rd at the Plaza de Toros de las Ventas bullfighting ring in Madrid, Spain. The final two showdowns of the season will take place in London and Rome.
2010 Red Bull X-Fighters: London, England