The first round of the 2011 Red Bull X-Fighters World Tour in Dubai has concluded, with Spain's Dany Torres taking the win ahead of Andre Villa and two-time X-Fighters tour champion Nate Adams. Both Torres and Villa put down flawless runs in the final, but the judges felt Torres' amplitude and trick variety was enough to give him the win.
"I'm very happy to take the first win of the season here in Dubai," said an elated Torres. "It feels really good because the level of riding was so high tonight, so it makes this win that much better."
2011 Red Bull X-Fighters World Tour: Dubai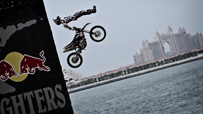 WIDTH="203" HEIGHT="114" BORDER="0" ALT="">
A closer look at the action from Dubai. Gallery »

The Dane Herron-built course, which made creative use of a relatively tight space, allowed Torres to throw some of his biggest flip tricks. His massive seat-grab Indian air flip, a lazy boy flip, a cliff hanger flip, and a supercan flip were all thrown en route to victory. Villa put down a run that was nearly the equal, with over-extended tricks like his signature holy grab indy, ruler flip, cliffhanger flip, and a nearly upside down whip.

Adams, who as the favorite coming into the event, rode well but was ucharacteristically tight aboard his new Honda CRF450 four-stroke. When asked what it felt like to get beaten by Torres in the semifinals, Adams responded, "It sucks. I messed up on a stripper flip and that was enough to take me out of contention for the win. It's disappointing, but I'm still definitely aiming for that third title. This will just have to be my throwaway round."
The tour scoring structure allows each rider to drop their worst result so that it doesn't count toward their overall points on the year.
The next event takes place in Brasilia, Brazil on May 27.
2011 Red Bull X-Fighters: Dubai, UAE