Josh Hill: Recovery Report
"This injury has made me into a better person"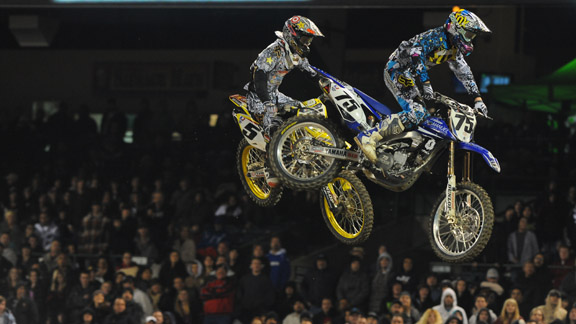 Steve CoxHill aims to be back on a bike and racing for the opening round of the AMA Motocross Championships in 2011.
In 2010 Josh Hill hit the high and took a long, slow slide to the lowest point of his racing career. In February, after five consecutive podium finishes, Hill was tied in points with the eventual AMA Supercross Champion, Ryan Dungey. Three broken ribs at the halfway point in Atlanta kept him from being a threat and caused his finishes to deteriorate all the way to the finale in May where he finished 17th. By the end of July he was laid up in a Southern California hospital with major injuries after a failed flirtation with freestyle motocross. Now, at the end of October, a still healing Josh Hill is absent from the 2011 conversation. With the moto news being largely absorbed by the still-in-session silly season, the attention has been focused on those riders who will be available and ready to compete at Anaheim come January 8. Hill will not be one of those riders.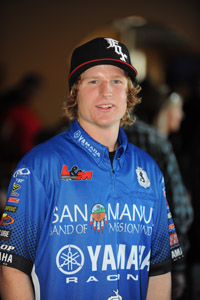 Steve CoxHill has suffered a list of injuries in 2010.
On July 23, while practicing back flips at Nate Adams' house, Hill suffered a list of injuries that read like a recipe: shattered his right femur, broken right pelvis, shattered right humerus all the way up to the shoulder, topped off with compartment syndrome in the left leg. "This injury has been so nagging because it hasn't been just one thing to take care of," Hill said. "I had so many different little things going wrong that it's been a long recovery process." The crash happened while preparing for the Speed & Style competition at the X Games. It was Hill's second attempt at landing a 75-ft. flip to dirt. His first attempt was perfect. "I knew something was wrong as soon as I took off. It sounds dumb but I don't really know what happened to me, why I shut off and I why I didn't keep pulling the rotation around because I probably could have made it work had I been smart about it. I kind of panicked and jumped off my bike. That was the end of it." Hill admits trying the flip wasn't worth it but he doesn't regret it. The son of BMX Vert legend, Monte Hill, Josh knows how to flip a bicycle and doing it on a dirt bike was another item on his bucket list. "I've kept the mentality that if I feel like I can do it and I've weighed out all my consequences and put in the work before then I can do anything."
Six surgeries and three months later, Hill is still trying to get full feeling back in his left leg and strength back to the rest of his body. He spends 10 hours a week with Dr. G, a chiropractor to the moto stars in SoCal, and double that time thinking about his life and career going forward. "I feel like this injury has made me into a better person," he said. "I spent a lot of time thinking and wondering what was going on. If everything goes right and I get second chance, I'm going to use the most of it. I feel like I've slacked most of my career, except for this last year (2010). If I get a ride again I'm not going to waste it. I feel like I wasted my first chance I had at being a pro athlete because I didn't accomplish nearly what I wanted to."
Hill's goal is to be riding by the end of year and back to racing for the opening round of the AMA Motocross Championship in late May 2011. "I don't have a doubt in my mind that I'll be back on a dirt bike. I'll only come back (to racing) when I'm ready to win again." Hill, who had a one year Supercross-only contract with L&M Yamaha as James Stewart's teammate in 2010, said he's been working the phones for a ride in 2011. Nothing is signed but he likes what he's hearing. "I'll ride anything as long as it's a good bike."
ALSO SEE
ESPN.com/Action has FMX covered. Check out the latest from 2010.
FEATURES
VIDEO
PHOTOS
MORE ACTION SPORTS HEADLINES
MOST SENT STORIES ON ESPN.COM