Travis Pastrana has a busy summer ahead. By August, he will have brought his Nitro Circus Live show to the U.S., filmed for a 3-D movie full of first-time stunts, competed in Moto X Best Trick and RallyCross at X Games 17 and made his NASCAR debut in the Nationwide Series. And we'll have chronicled it all here, in a weekly(ish) column by Alyssa Roenigk, senior writer for ESPN The Magazine and author of The Big Jump: The Tao of Travis Pastrana. So much for a summer vacation. Or sleep.
If you're looking for life lessons, Las Vegas is probably not somewhere you'd stop on your search. Nor is a circus run by Travis Pastrana and a gang of action sports stars. But Saturday night at the North American debut of Nitro Circus Live, the conversations being held in the crowd of nearly 10,000 were as much about life as they were about the stunts being performed on the floor. I know, because I was involved in many of them. Others, I simply listened in on and took notes. Fortunately for those of you who couldn't make the trip, I have this column, where I can share those notes and impart to you the wisdom of the Nitro Circus.
Nitro Circus Live: Las Vegas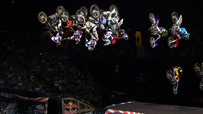 WIDTH="203" HEIGHT="114" BORDER="0" ALT="">
Chris Tedesco shares his bangers from Vegas. Gallery »

If You Ride It, You Jump It
At the start of the show, the first rule of Nitro Circus is explained to the crowd. If an athlete is seen riding something, be it a Barbie Corvette, a Razor scooter or a 250-pound dirtbike while toting two kids on the front, he or she must carry it to the top of a 50-foot wooden staircase and ride it down the Giganta Ramp or use it to hit a metal moto kicker. While this is happening, the crowd is chanting, "If you ride it, you jump it!" It's a cute device used throughout the show. It's also the crew's mantra. If you start something, finish it. If you do something, do it full out. If you ride it, jump it.
But No One Said If You Jump It, You Must Land It
At any action sports event, especially one featuring a nine-man backflip train and side-by-side FMX and BMX double backflips, fear is a topic discussed in the crowd. "Don't these guys have any?" Sure they do. Before the show, the cast, including their ringleader, feared a jaded, overly stimulated American audience would be impossible to please. Those fears were calmed at around the third standing ovation. "We went an hour too long, and they stayed," said BMXer Andy Buckworth, who landed the first Superman double frontflip on the Giganta Ramp. "The first half of the show was so epic that at halftime people were like, 'How could it get better?' And then we upped it."
In the second half, and in the true spirit of the show, every athlete attempted a trick he had never landed before. So of course there was fear. Skier and BASE jumper Erik Roner threw a double backflip on wheeled skis, something he'd previously only attempted into foam. Australian FMX rider Josh Sheehan attempted to land his first double backflip. Those are scary. But whether or not the tricks were landed mattered very little. (Roner did; Sheehan didn't.) There was a lot of failure during the nearly three-hour show. A lot of falling. But there was seemingly no fear of failure, because a fall wasn't a fail. The falls were celebrated almost as much as the successes. Aaron "Wheelz" Fotheringham received equally loud cheers for landing the first wheelchair front flip and for crashing -- and likely breaking a rib -- on a double backflip attempt. Unlike at a contest, the glory was in the attempt, and the crowd fed off that. They were emotionally involved in every trick because every trick had a story, and the people in the crowd knew these athletes were putting themselves on the line simply for their entertainment. Not for a medal, not for a sponsor. For them.
"This isn't Cirque du Soleil," Pastrana said at the start of the show. "This is real. We are all going to attempt things we've never done before, and there is nothing scarier than standing at the top of a ramp and not knowing how it's going to turn out. So whether or not we land this stuff depends a lot on you guys." At its core, the show was like a three-hour Tony Robbins seminar: If you're not failing, you're not trying hard enough. Fall. Fall again. Then climb back up to the top of a five-story staircase and do something no one has done before.
Someone Else's Success is Not Your Failure
This lesson is best illustrated by a story. A few weeks before Saturday's show, Buckworth was riding at his local park, Dave Mirra's warehouse in Greenville, N.C., and saw another rider, James Foster, trying triple backflips into the foam pit. "He was really close, so I took a video of him and texted it to Pastrana," Buckworth said. "And here he is. He got to try it in the show. People are always asking me what they have to do to be a part of the Nitro Circus, and I tell them, 'Do something that gets people's attention. Do something no one else is doing.'" Buckworth is one of the best riders in the world on a BMX bike. There would be a lot of glory in being the first person to land that trick. (Foster over-rotated on both attempts and did not ride away from the triple, which was landed for the first time last week by Kiwi rider Jed Mildon.) So it would make more sense for Buckworth to keep Foster as far away from the Giganta Ramp as possible. "But that's not what this show is all about," he said. "We consider ourselves a big family. No one is winning or losing, and it's not about trying to beat your friends. At the end of the night, everyone wins." Even the guys who didn't land a single trick.
Do As We Do, And As We Say

When Pastrana landed the first contest double backflip at the 2006 X Games, the energy in that arena could have powered the Staples Center for a month. That kind of moment is rare, especially at shows and contests in the U.S., but it happened Saturday night. "Nitro brought the spark," said skateboarder Bob Burnquist, who landed the first Christ air backflip on the big ramp. After several "world first" moments, I overheard people in the crowd talking about getting tattoos to commemorate the night or what the show was inspiring them to do in their lives. I've always wondered if people left the Staples Center that night in 2006 and attempted their own versions of the double backflip: Maybe they asked their boss for a raise or asked that cute girl at work out on a date. Whatever it was, I've always thought moments like that must inspire people to try something in their lives that truly scares them. But for a lot of people, it's difficult to make the jump between overcoming the fear of landing a double backflip and overcoming the fear of being rejected by a girl or guy you like. But something happened Saturday night that made that jump a little easier to make.
A few minutes into the show, skateboarder Lyn-Z Adams Hawkins -- the only female in the show because NC regular Jolene Van Vugt is healing from shoulder surgery -- rolled down the Giganta Ramp and slid out on her landing. Right after she did so, Pastrana grabbed the microphone and the spotlight picked him up at the top of the ramp. "Sorry to interrupt the show, everyone, but I have to do something," he said. "My family is here and the love of my life is standing down there." He pointed to Adams Hawkins, whom he's been dating for the past year. Then he sat down and slid down the ramp as Hawkins was hoisted up onto it. "Lyn-Z," he said, "Will you marry me?" He handed her a plastic coin purse shaped like a cupcake -- an inside joke between the two of them -- and inside was a ring. "I wasn't supposed to do this until the end of the show," Pastrana said. "But I was so nervous, I couldn't wait." The point is, he did it. "That was ballsy," FMX rider Blake Bilko Williams said. "It was probably harder than the double backflip." Or maybe it gave him the inspiration to land it.