Red Bull X-Fighters Madrid Preview
Tour returns to its traditional home with new faces, wild cards, and old vets in tow
It's been a little less than a month since the Red Bull X-Fighters took over the cobblestones of Red Square in Moscow, and the tour now returns to the venue that's seen more X-Fighters action than any other: the bullring of Las Ventas, Madrid.
Unlike the other tour stops, Madrid is a two-night event. This is due to the intriguing addition of a new wild card competition on Thursday night. Six virgin "toreros" will put rubber to the Las Ventas soil, each battling for the final spot in Friday night's main event and a shot at the best riders in the business.
The wild card event was to be Lance Coury's second shot at X-Fighters glory. After some challenging bike issues and a lack of practice at Cairo, he hoped to deliver on the promise that he has shown in the past year. Unfortunately, a bit of a get-off while training earlier in the week led to some cuts and bruises that will keep him off the plane to Spain. That leaves the East Coast's Brody Wilson as the only potential wild card flying the U.S. flag.
Wilson is no stranger to European competition, having ridden in the FIM Championship series for the past few seasons. This is a chance for him to step into the harsh glare of world-class competition before his first X Games appearance, just one week later.
By far the most anticipated wild cards will be the Australian duo of Clinton Moore and Jackson Strong. Moore is little-known outside of his home country, but already proficient at the 360 and even has the body varial down. Las Ventas, with its simple ramp-to-dirt setup, is a great venue for a skilled trickster, which will play well to the 22-year-old's strengths.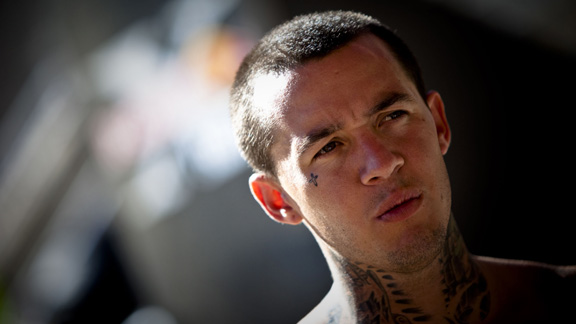 Red BullMadrid will mark the return of Red Bull X-Fighters regular Jeremy 'Twitch' Stenberg.
Nineteen-year-old Strong, by comparison, has spent much of the year riding with the Mulisha under the watchful eye of Field General Brian Deegan. He has landed the front flip at a Crusty Demons stop in Australia, but it's not clear whether the youngest rider in the field has enough clean tricks to impress the judges. Both Moore and Strong have received X Games invitations this year, and it promises to be a couple of hectic weeks for the young Australians.
The rest of the wild card field is rounded out by two Europeans: David Rinaldo of France and Michael Melero of Spain. Twenty-one-year-old Rinaldo has a great range of tricks and smooth extensions, as well as a motocross background that could help him charge the tunnels and berms of the La Venta course. The greater pressure will be on 21-year-old Melero, as he hopes to step alongside Spanish greats like Torronteras and current tour number eight Dany Torres. Melero's nation is sill in the grips of their World Cup victory celebration, but the pressure of 25,000 countrymen watching and willing a rider to victory has caused more seasoned competitors to crumble in the past. Will the spirit seize him or freeze him? We'll know Thursday night.
Of course, wild cards are all well and good, but it's the veterans who command the most attention and respect at X-Fighters, and two of the most commanding and respected are making their tour debut for the year in Madrid. Jeremy 'Twitch' Stenberg has one X-Fighters victory to his name already (Rio De Janeiro, 2008), while Mike Mason competed for the first time last year in London. Both have plenty of big-time competition experience, but Madrid is a pressure cooker situation in which to make a return. The big question for both riders if whether or not they understand this year's judging criteria, with it's heavy focus on showmanship -- a criteria that Mason's buddy Adam Jones knows all too well, having gone from eighth to first in the first two events of the season. They'll no doubt compare notes on the flight to Madrid.
And while the wild card field is a bastion of promising young talent, there's one rider who is proven young talent: 19-year-old Moscow champ Levi Sherwood. The New Zealander dominated the last stop of the tour from wire to wire, even gooning after the bell rang with more style and fun than his competitors. It remains to be seen if that's the Sherwood we'll see in Madrid, but we do know that he's been holed up at Mat Rebeaud's training compound in Switzerland putting together a Swiss Army knife of moves to MacGyver his way through the competition. And, if nothing else, he won't be jetlagged.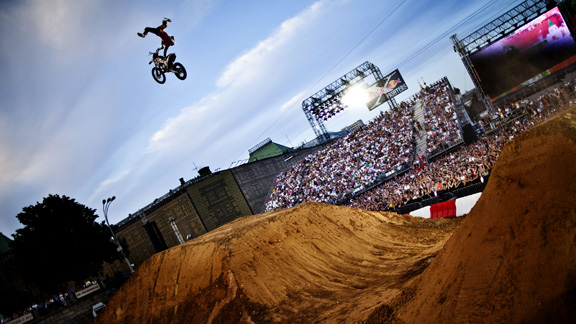 Red BullYoung Levi Sherwood is a favorite going into Madrid, but at Red Bull X-Fighters anything can happen.
MORE ACTION SPORTS HEADLINES
MOST SENT STORIES ON ESPN.COM