Broc Tickle
Chad Reed
Ryan Dungey
Ryan Villopoto
2012 Season Preview
The official year-in-review compilation DVD for the 2011 AMA Monster Energy Supercross season is called "Bar to Bar 2011: The Greatest Season Ever." Huh. Well, where do we go from there? Does 2012 even have a chance?
Yes.
With five different winners and four riders eligible for the title at the final round of 2011, AMA Supercross competition hasn't been this deep since the mid '80s. On Jan. 7, 2012 the greatest gathering of defending and current champions, race winners and hopefuls will start in Anaheim, Calif., on a four-month, 17-stop tour. These are the top five stories to watch in 2012:
2012 AMA Supercross Preview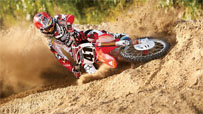 WIDTH="203" HEIGHT="114" BORDER="0" ALT="">
Eleven riders to look out for as we enter the 2012 AMA Supercross season. Check the photos. Gallery

The Confident Champion
Ryan Villopoto knew he had the speed to win but it took three years and one key adjustment to get his first title: Aldon Baker. The former trainer of Ricky Carmichael and James Stewart gave RV2 an unrivaled edge that gave him the confidence to win in 2011 after recovering from a devastating leg injury. Villopoto was the most dominant rider last year, winning every title, race and event he entered, and he's acutely aware of the task that repeating will be. He's confident but careful not to show it. In fact, he admits repetition will be difficult.
"It is going to be hard to repeat," he said. "I wouldn't say it can't be done because I think it can be done, it's just going to be hard. There are a lot of fast guys in the class who are going to be healthy. If I repeat that's great but I'm not going to sit here and say I'm going to or that I have a good shot to because you look silly when you don't."
The Change Artists
Can James Stewart recover after a season of crashes, personnel changes and law enforcement trouble? Can Ryan Dungey win on a brand that's never even been on the podium in AMA Supercross?
Before the start of 2011 Stewart told ESPN "everything has changed." What he neglected to say was that everything had not changed for the better. Maybe he didn't know that at the time, but it simply wasn't a good year for the two-time former champion. Another summer off and a lot of personal reflection led Stewart to sign with Joe Gibbs Racing, where he will remain on a Yamaha. The decision came after careful vetting and tryouts. "This time it's what team I wanted to be on and how I jell with the team," Stewart said of the new team. "To be honest, I jell with the Suzuki guys really well. I jell with everybody but I felt like the situation to go racing and not have to worry about anything I felt like this was the best place to go do that because it's an organization that's bigger than me."
Stewart hasn't seemed this optimistic and happy since he was a fresh-faced kid on a KX125. In mid-December he told the Pulp MX Show, "I'm happy just doing the work. I'm happy just being here."
Dungey made a switch that was once considered a career killer: riding a KTM. The 2010 champion has several benchmarks to get the Austrian maker across. Despite no prior record of success in SX, KTM has its best shot with Dungey and the rider doesn't hesitate when asked if he can win on this bike at Round 1.
"From the time I got on it I never felt that it was uncomfortable in any way," he said. "I adapted to it quickly, which I'd wondered about because it's a completely different bike. Is it capable of winning? Absolutely. I was never going to go in a direction where I didn't think I could win."
Chad Reed -- Stay, Stay
In four years, Chad Reed rode for four different teams and four different brands. Now that Reed is giving the orders as owner of TwoTwo Motorsports, he will remain static in 2012 and he even picks up factory Honda support. Reed's team is being housed in Honda's former road race shop and he will have full access to the moto side. Reed will remain the only rider for the team but he made big additions to his personnel lineup, including hiring his former mechanic at Suzuki, Mike Gosselaar.
"I feel that this is my year, I got to go for it," Reed said. "In a lot of ways this year replicates the way I felt going into '04 and '08 so that's a good thing because I won races and championships in those years. For some reason my championships are four years apart and we're at that number again. I'm on the Olympic schedule I guess."
Trey It Ain't So
The AMA Supercross series has had four different champions in the last four years and Honda's Trey Canard was the sport's best bet at a fifth different winner. On Dec. 6, Canard crashed while testing and broke his collarbone. The official press release from Honda said he would miss at least the first few rounds of the series, effectively ending his hopes at the title.
The Rookie
It's a small graduating class and if it wasn't for a rule forcing Broc Tickle into the Supercross division he would probably be defending his SX Lites title in 2012 instead of moving up. The level-headed Tickle has been pro since 2006. Now, riding a 450 for Mitch Payton's Monster Pro Circuit Kawasaki team, the North Carolina native hopes his slow start gives him the maturity to make a successful jump to the premier class. "I learned the hard way," he said. "I went through a lot of training problems, worked my way up on teams and learned from my mistakes. It wasn't smooth from the beginning. I had to work really hard to get a championship. It's been a goal of mine since I was a kid but I had to put the puzzle together."