11,483 vertical feet or bust
Inside Fredrik Ericsson and Trey Cook's historic attempt to ski K2 later this month.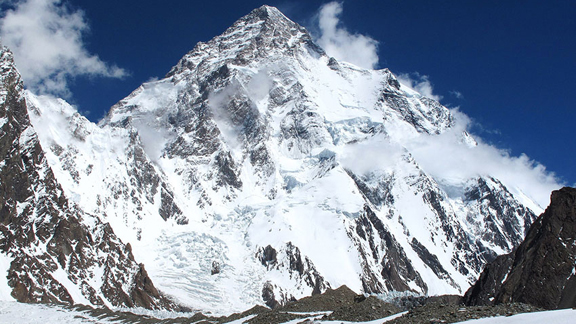 Trey CookThe Cesen Route ski line initially follows the ridge on the right, then cuts in toward the photographer and descends the broken face that is partially obscured by clouds.
Most of the ski expeditions around the world have concluded now, which is fitting, since that means we can fixate on one that may warrant consideration as the greatest achievement in skiing history.
Swedish alpine savant Fredrik Ericsson and Chamonix-based climber/journalist Trey Cook are in the middle of an expedition on 28,251-foot K2 -- the world's second tallest mountain, and alpine climbing's holy grail -- that is already six weeks old and could produce a first descent of unparalleled significance by Ericsson around July 25, according to an e-mail he and Cook sent ESPN.com from base camp on Wednesday.
The 35-year-old Ericsson has spent the past month establishing a ski line on the Cesen Route, which roughly follows the mountain's übersteep and exposed south/southeast ridge. No one has ever skied K2 the way he wants to: from summit to base camp -- six hours and 11,483 vertical feet with his life hinging on every turn.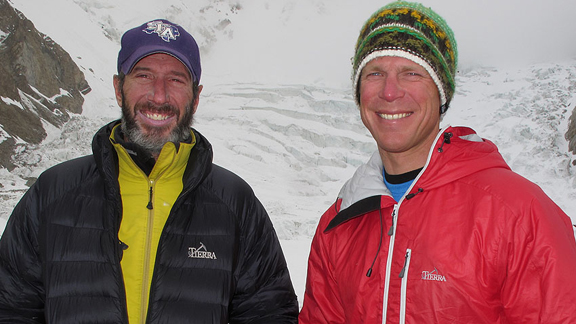 Cook/EricssonTrey Cook and Fredrik Ericsson in base camp. (Notice the Stephen F. Austin hat on the Texas native Cook).
"We both believe there is a line that can be completely skied from top to bottom, without any rappels or down climbing," Cook wrote on Wednesday. "Others say this is impossible but we think it can be done."
Ericsson is backed by solid sponsorship money (the trip is costing an estimated $32,000) but is running a very low-key, classically styled expedition with no guides, porters or extra oxygen. He is experienced at high altitudes, already having skied on five of the world's 14 8,000-meter peaks. But he is carrying a crippling emotional burden, too.
One year ago, he came to K2 alongside his close friend and Italian ski mountaineer Michele Fait with the same goal he is pursuing now: to ski "the mountain of our dreams." But K2, the most savage peak on earth, struck first.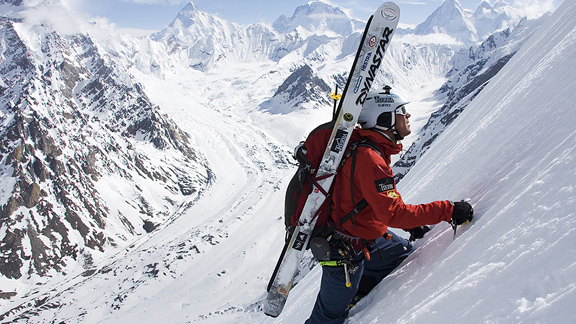 Trey CookEricsson climbing on Laila Peak before arriving at K2, which is visible in the background on the left with fellow 8,000-meter mountains Broad Peak and the Gasherbrums on the right.
On June 23, 2009, Ericsson watched as Fait fell backwards while jump-turning during an acclimatization ski descent from 20,800-foot Camp 2, on the same route they are on now, then tumble thousands of feet to his death. Ericsson spent a half-hour skiing down to Fait's body. He watched the black crows circle around like vultures. It remains for Ericsson "the worst day of my life."
"I will always carry Michele's death with me," he said.
But in late May, Ericsson came back. He and Cook have been slogging through what their trekking guide claims to be the deepest spring snowpack in Pakistan's Baltoro region in 15 years -- prime conditions for a first descent. For Ericsson, the trip marks the beginning of a historically ambitious 18 months: He is planning to ski the three highest mountains in the world, including 29,035-foot Mt. Everest this fall and 28,169-foot Kangchenjunga in the fall of 2011.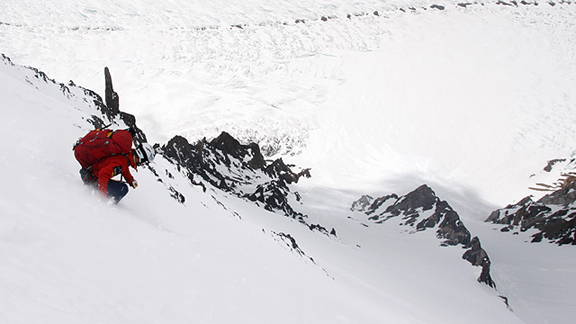 Trey CookEricsson skiing at 6,500 meters (21,300 feet) during an acclimatization day on K2.
Both Ericsson and Cook, a 48-year-old Abilene, Texas, native who runs the Chamonix Insider blog in France, committed three months to their K2 attempt. Having already acclimatized and spent multiple nights above 7,000 meters (23,000 feet), they are targeting a forecast weather window of July 23-25 for a summit attempt. They estimate the ascent will take four days and, for Cook, the descent two days.
Yet fear remains on the Cesen, which includes a 60-degree throat known as the Bottleneck at 27,000 feet. Cook said he has often been terrified and that Ericsson, usually unflappable, has gotten scared as well, which "makes him focus more on the task at hand and enables him to make the best decisions." But they are still loose right now, a week before the climactic summit attempt on the world's deadliest peak.
"Considering we've been on an expedition for almost six weeks, we think we don't smell too bad at all," Cook joked. "On the other hand, the only one coming by to visit these days is the goat from the neighboring camp so that might be one indication."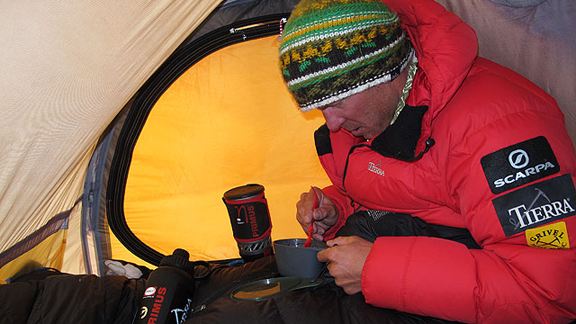 Trey CookEricsson brewing up at 7000 meters.
The other groups on the mountain -- a Polish team of 10 and a German/Austrian duo on the Cesen Route, as well as 10 Koreans, five Italians, an Iranian woman and an American/Nepalese/Hungarian quintet on the more traditional Abruzzi Route -- are carefully following Ericsson. As alpinists they realize the historic significance, Cook said.
The ski descent aside, if Cook and Ericsson summit K2, they'll be among one of the most select athlete groups on earth -- one that numbers fewer than 300, compared to the 4,000-plus Everest summiters.
But if Ericsson fulfills his dream, he'll be on a list of one.
Related Content

Check out more freeskiing content on ESPN.com/Action.
Vintage Symms
Seth Morrison
Sage Cattabriga-Alosa
Ingrid Backstrom
MORE
MORE ACTION SPORTS HEADLINES
MOST SENT STORIES ON ESPN.COM