Say their names
A gallery of photos of the other women of the film, "Say My Name."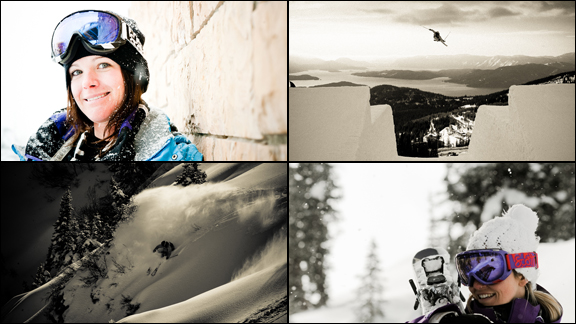 Seo/Evans/HoltPhotos of some of freeskiing's top females, taken while filming "Say My Name."
Launch Gallery »
[Ed's note: This story is part six of a series on some of freeskiing's most stand-out females, the women who are pushing the limits of what we all thought possible. Check back next Wednesday for the next installment, a profile of New Zealander Janina Kuzma, who recently became North Face's newest female ski athlete. And see below for ones you've missed.]
1: Anna Segal 2: Rachael Burks 3: Angeli VanLaanen
4: Photographers
6: Say Their Names
7: Janina Kuzma
8: Suzanne Graham
You may have heard the name Grete Eliassen associated with this fall's new release, "Say My Name," an all-girl ski film starring Eliassen that recently went on sale on iTunes. But it turns out, there were other girls who skied in front of the camera for the film. Suzanne Graham, Lynsey Dyer, Elyse Saugstad, Kaya Turski, Sarah Burke, Keri Herman and Anna Segal all have shots in the movie. In fact, all the girls in "Say My Name" are the ones pushing the standards in women's freeskiing.
We asked Eliassen about her costars. "I really like skiing with people who I have fun with or someone who makes me a better skier," Eliassen said.
Photographers Austin Holt, Stan Evans and Erik Seo supplied ESPN with these images of Elyse, Lynsey, Kaya, Sarah, Keri, and Anna. Ladies, this is your standing ovation. Launch Gallery »
ALSO SEE
Keep it here for everything you need to know about skiing.
---
Leading Ladies
MORE ACTION SPORTS HEADLINES
MOST SENT STORIES ON ESPN.COM