Tabke, Collinson win FWT Snowbird
Freeskiing World Tour Finale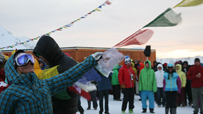 Check out photos from the Freeskiing World Tour at Snowbird. Gallery

On a day punctuated by rolling clouds and spitting snow, Angel Collinson and Drew Tabke won both the Freeskiing World Championships and the McConkey Cup at Snowbird, Utah, on Saturday. The big-mountain competition on Snowbird's North Baldy marked the final stop on the Subaru Freeskiing World Tour.
Tabke, who had been trailing perenni al Tour powerhouse Lars Chickering-Ayers, battled through adverse weather conditions on his final run. As the last skier of the day, Tabke waited through multiple course holds as clouds obscured the venue on North Baldy. "I knew I could do it. I've been living in Seattle where the weather is a real challenge, but Utah's weather is much more reliable," Tabke said afterward. His run included multiple stylish airs and he landed a huge air in the Broom Closet at the bottom for the victory.
Taking second place in the men's field was Teton Gravity Research film star Sage Cattabriga-Alosa, who got his career started on the Freeskiing World Tour but hasn't competed in some time. He threw down a stylish run, spinning multiple 360s and earning the highest score of the day at 43.70 points out of a possible 50. Rounding out the men's field was Chopo Diaz, of Valle Nevado, Chile.
In the women's field, Snowbird's own Angel Collinson continued her domination with a fast, aggressive run, showing no signs of a back injury she had sustained earlier in the week as she stomped her way off of a double cliff air at the bottom of the venue for the win. Collinson said that she was "just skiing for Ryan (Hawks)," her boyfriend who passed away during the last Freeskiing World Tour competition at Kirkwood, California, two weeks ago.
Jackson Hole's Crystal Wright slashed her way into second place and Tour newcomer Nicole Derksen, from Revelstoke, B.C., skied a fast, fluid fall-line run, hitting multiple airs along the way to finish third.
The McConkey Cup Tour Champions, named after skier Shane McConkey, who helped found the Tour, is given to the top overall skiers from all six stops of the 2010-2011 Subaru Freeskiing World Tour, which started eight months ago on the slopes of South America. For the men, Drew Tabke and Lars Chickering-Ayers swapped places from where they had been most of the season with Tabke clinching the overall victory and Chickering-Ayers finishing second. Chopo Diaz ended the season in third.
Angel Collinson nabbed the McConkey Cup for the second year in a row. Crystal Wright took second and Ashley Maxfield placed third for the overall tour.
The Backcountry.com Sickbird Award, given for the most impressive air, was awarded to Silas Chickering-Ayers. The North Face Young Gun Award, given to the most promising athlete under 23, was given to Spencer Brinson.
For the first time ever, the Ryan Hawks Spirit Award, named in honor of the skier who passed away at the Tour stop at Kirkwood, was given to Willie Schneider. It is an award given to the athlete who exemplifies the passion and leadership that Hawks brought to the freeskiing world.
"I'm super grateful to receive this award because Ryan was such an amazing person and a great athlete," said Willie Schneider. "I was very emotional when his father came up and gave me a hug. I can't express it in words." Launch Snowbird FWT Gallery »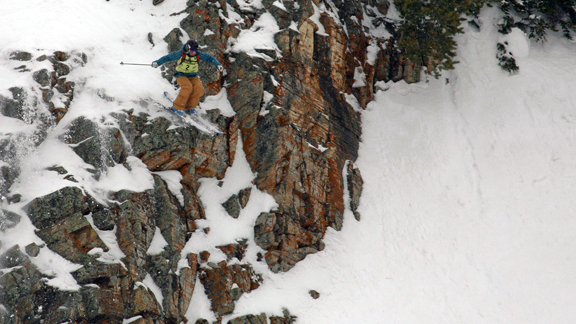 Dana AllenAngel Collinson on her way to another win, this time on her home hill.
Men's Finals Results
| Rank | Name | Score |
| --- | --- | --- |
| 1. | Drew Tabke | 86.23 |
| 2. | Sage Cattabriga-Alosa | 85.76 |
| 3. | Chopo Diaz | 83.60 |
| 4. | Drew Stoecklein | 83.20 |
| 5. | Silas Chickering-Ayers | 82.00 |
Women's Finals Results
| Rank | Name | Score |
| --- | --- | --- |
| 1. | Angel Collinson | 72.50 |
| 2. | Crystal Wright | 70.93 |
| 3. | Nicole Derksen | 62.5 |
| 4. | Alexis Dupont | 62.36 |
| 5. | Kristi Knaub | 61.3 |
ALSO SEE

Keep it here for everything you need to know about the Freeride World Tour.
---
Freeride World Tour News
MORE ACTION SPORTS HEADLINES
MOST SENT STORIES ON ESPN.COM