IF3 in Pictures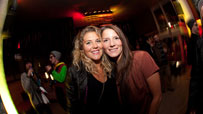 WIDTH="203" HEIGHT="114" BORDER="0" ALT="">
Check out photos from Montreal. Gallery

Montreal played host to the Nike 6.0 International Freeski Film Festival this weekend for four days of films and parties. With over 40 films premiering in the ornate Imperial Cinema, the festival, more commonly known as IF3, has cemented itself as the official start to the winter season for many.
At the IF3 Palm Awards on Saturday night, honors were handed out in various categories, with Poor Boyz Productions taking home top honors with best film for "The Grand Bizarre."
Now in its fifth year, IF3 was the result of the efforts of Felix Rioux, Doug Bishop and Jean-Francis DuRoucher, who wanted to bring about a new type of event that would showcase some of the top athletes in the freeskiing world on film and those who've dedicated countless hours behind the lens and editing screen.
IF3 Awards
Best film:
Poor Boyz's "The Grand Bizarre"
Best cinematography:
Sweetgrass Productions' "Solitaire"
Best female performance:
Ingrid Backstrom
Best soundtrack:
Teton Gravity's "One For the Road"
Best webisode:
Traveling Circus' "Get in the van"
Best cinematography AM:
NSF Productions' "Frozen Yogourt"
Best AM film:
NSF Productions' "Frozen Yogourt"
Most innovative visual FX:
Sherpas Cinema's "All I Can"
Best documentary:
Sherpas Cinema's "All I Can"
Best jib movie:
Stept Productions' "Weight"
Best editing:
Level 1 Productions' "After Dark"
Rookie of the year:
Jasper Trader
IF3 began Thursday night with outdoor screenings of three films, including Red Bull's Cold Rush, a longer cut of previously released footage from the Silverton, Colo. event, Switchback Entertainment's short documentary "Freedom Chair," an inspiring look at sit ski athlete Josh Dueck as he comes back from a 2004 injury that left him paralyzed, and Sherpas Cinema's "All.I.Can," a ski film with a green message of environmental responsibility that stars Mark Abma, Kye Peterson, JP Auclair and others.
The next three days were packed with visual stimulation and ski action, with 10 films showing on Friday, 14 on Saturday and 12 Sunday alongside the Red Bull Tanner Hall Inspired Reggae Party, IF3 Palm Awards, and Sean Pettit's Rocker Party going on well into the evenings. Friday night's highlights included "After Dark" by Level 1 Productions, a ski film that knocks the viewer out from the start with Parker White's opening segment, Meathead Films' 10th release "Prime Cut," which delivers the narratives and entertaining segments that the Burlington, Vt.-based crew is known for. Saturday saw heavyhitters like Poor Boys Productions, Matchstick Productions and Field Productions grace the screen in the Imperial Cinema, the downtown Montreal venue that opened its doors in 1913. The two-story, 900-seat theater has been the festival's main screening setting since IF3 got its start in 2007.
Also worth mentioning are the burgeoning growth of the smaller production companies like 4BI9 and Stept whose vision and direction in the sport continue to present a fresh perspective on the scene.
"It's cool to see everything at one time, one place, to see how hard everyone worked, and how hard everyone skied throughout the season," said Tom Wallisch about IF3. "This sort of event gives a lot of exposure and respect to the film side of our sport."