The sixth and final round of the Global RallyCross series begins as the last one ended: with Brian Deegan chasing Ford teammate Tanner Foust for the win. Foust held on to win that Round 5 final race, notching his first "W" of the season and solidifying his hold on the No. 1 spot in the overall standings.
Heading into the final race Tuesday (8 p.m. ET, ESPN2 and ESPN3) in downtown Las Vegas, Foust has taken such a commanding lead over the rest of the field that even if he were to bow out of the race entirely, only one other driver could overtake him for the championship: Deegan.
"Tanner is one of the best drivers in the world, and for me to be battling him for the championship is already great," Deegan said. "I'm the underdog and I know that. But being the competitor I am inside, I don't care who it is. I have to win and I'm down to do whatever it takes."
It's hard to say which of the two drivers this course -- which is being constructed in a parking lot across from the Las Vegas Convention Center and just a block off the Strip -- will favor. It will feature more dirt -- approximately 65,000 cubic feet -- than the previous five stops, making it a more traditional rallycross course.
The 70-foot gap jump will be made entirely of dirt, instead of the metal takeoff and landing ramps used in previous races this year. And the shortcut or "joker" lap drivers are required to take once per heat also will be all-dirt. Deegan's motocross and truck racing experience make him a favorite on dirt, as does Foust and Liam Doran's experience in the European Rallycross series.
Global RallyCross Round 5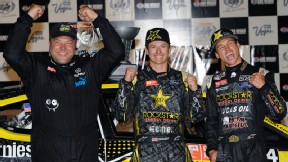 WIDTH="203" HEIGHT="114" BORDER="0" ALT="">
Look back at the scenes from Round 5 of the GRC on Sept. 29 at Las Vegas Motor Speedway. Gallery

Foust said the type of dirt on this track will affect the racing and potentially affect the points race.
"The dirt at Las Vegas Motor Speedway was great. It formed a blue groove, it was fast and predictable," Foust said. "But the dirt in New Hampshire was like sandbox sand and that wasn't a good thing. This track will be very narrow, though. So we'll see what GRC makes the barriers out of. If it's concrete K-rail, the race will be an exercise in keeping your car in one piece. The slightest touch could put you into a concrete wall.
Deegan said while he has yet to win a race this season -- Foust is the only driver in this week's field who has won a race in 2012 -- he has gained experience in the past five races that he'll bring into the final.
"You gotta get a good start and get a good position on the front row for the final," Deegan said. "It's a short final and it goes by really quick. And you really need to make your equipment last. They're giving us more practice time and you have to be smart. These cars wear out quick and they break quickly. They have a time limit on them."
Travis Pastrana, who won Round 4 in New Hampshire and sits in ninth place overall, will miss the final stop after having surgery to repair the rotator cuff and labrum in his left shoulder. He will attend the race to help groom his replacement, Bryce Menzies, the 2011 SCORE Trophy Truck and 2012 Baja 500 champion who made his GRC debut in Round 3 at X Games Los Angeles.
Richard Burton, who crashed going over the jump in his first heat in the Sept. 29 Las Vegas race, is still recovering from a fractured back and displaced vertebrae and will miss the final race. Burton said he will be on-site in Las Vegas wearing a pretty hefty back brace, and he is expected to make a full recovery.
Marcus Grönholm, who won the first two stops this year but has missed every round since because of injuries suffered in practice at X Games L.A., will be replaced by the winner of the 2012 FIA European Rallycross Championship. Timur Timerzyanov beat Foust to win the ERC title and will be racing in Global RallyCross for the first time.
"I think Timerzyanov is a bit of a wild card," Foust said. "He knows the cars well and the format and how to win. He doesn't have experience in the Ford specifically, but will adapt quickly and is used to driving in the level of aggression they have in Europe. That doesn't sometimes fit the American tracks. In Europe, you can get forced off the track, but they're wide enough that you can come back on.
"Here, if there is car-to-car contact, someone will be left broken. I don't know what the officials will do to limit that, but Timur knows that Brian and I are fighting for a championship, so we'll see if he keeps his nose clean."
That's a lot of wild cards standing between Deegan and the championship. "That's why I love racing," Deegan said. "And I love when it comes down to the final race. I feed off that pressure."
Before the last stop at Las Vegas Motor Speedway, Deegan made a $1 side bet with Foust. And as Foust was giving postrace interviews in the winner's circle, Deegan paid up.
"After the race, I told him I'm winning my dollar back," said Deegan, who will race in Phoenix for the Pro 2 off-road championship three days before the GRC finale in Vegas. "But I changed my mind. This time, it's double or nothing."
Foust said he's in.
"Bring it. I'm going to have to get a bigger frame, because the frame I got for the single dollar fits it perfectly," he said.