Commentary
Tuning up for season No. 3
After ups and downs, GRC aims for 'operational excellence' in 2013
Updated:
November 16, 2012, 4:17 AM ET
By
Tes Sewell
| ESPN.com
Foust takes Gold
Tanner Foust and Brian Deegan post race interview at 2012 Global RallyCross in Las Vegas.
Foust takes Gold
NEXT VIDEO
Global RallyCross took a quantum leap this past year as it moved from the remote and forested venues of old to the vast speedways of NASCAR with their tens to hundreds of thousands of seats [and potential new fans].

"2011 was really a 'proof of concept' for us," GRC president Chip Pankow said about this evolution. "Let's do events, let's see how the live audience [does] -- are they enjoying it? Is the format right and then how does it work on television? Something that works well live in the stadium doesn't always translate to being exciting on television. We made a lot of changes in 2011, we changed the entire competition structure after our second race. We really weren't worried about attracting big crowds."

The changes were made possible, in large part, by a relationship with the legendary Bruton Smith's Speedway Motorsports Incorporated [SMI]. Pankow explained that 2012 was "all about critical mass" for GRC, so the group started talking to SMI.

"We figured let's not two-step, let's go to where the big crowds are, let's introduce our sport on the big stage," Pankow said. "SMI was a willing partner. I think in their sport they are kind of the visionaries. They're the ones who did the first superspeedway and they do a lot of things for the fans, they understand what fans want and what they are looking for. We had something they wanted: They were trying to attract a younger demographic, so it was kind of a win-win. For us: built-in crowd, for them: younger demographic and another show."

[+] Enlarge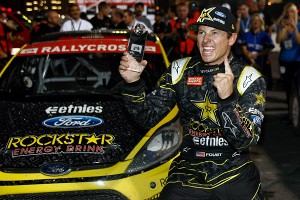 Doug Kranz/Icon SMITanner Foust adapted to the different types of courses by winning his second consecutive Global RallyCross Championship this year.

The races at each of the SMI venues required quick track builds and turnovers as these venues were also serving as host to NASCAR and Indycar events on the same days.

"One of the big challenges we had is that we were stuffed in the middle of a NASCAR show and we had to set up our courses in 45 minutes and, oftentimes, had to take them down in 45 minutes. That proved to be incredibly difficult, especially with the jump," Pankow said.

The resulting tracks were tight with sharp turns and created some cool, close and aggressive racing. Fans of the other race events were quick to realize the excitement of rallycross and would often show up en masse just to watch the practice sessions. The partnership with NASCAR's premiere Sprint Cup race in New Hampshire saw many of the top NASCAR drivers out the evening before the race to watch these nimble little cars put through their practice paces. Watching the excitement of multi-championship winning crew chief Chad Knaus [Jimmie Johnson] as he tweeted pictures from practice to prove how exciting the racing really was. This was, of course, until Ken Block drove his Monster Energy Ford off the side of the pit wall hairpin ramp, causing veteran NASCAR driver Jeff Burton to observe the upside down vehicle in the failing light and exclaim, "Practice is over boys!"

The most talked-about and notorious feature of the 2012 GRC season had to be the massive metal gap jump that was added at Round 2 at Texas Motor Speedway.

"The jump is important, so we created a metal jump that, you know, took some tweaking to get right," Pankow said about this steel monster. "At the end of the day though, absolutely worth the challenge."

For the next three events the jump was constantly tweaked to make it comfortable and competitive for the drivers. Finally, at Las Vegas stop No. 1 [Las Vegas Motor Speedway] in late September, the builders were given enough time and the drivers had enough confidence to make the jump work. This, of course, did not prevent disaster from befalling Canadian privateer Richard Burton, who lost power on the approach to the take-off and eventually ended up dropping into the gap, suffering back injuries as a result.

[+] Enlarge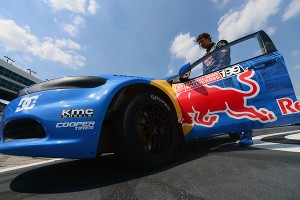 Donald Miralle/Getty Images for Texas Motor SpeedwayTravis Pastrana had a tough year in his new Dodge Dart, but he did manage to win Round 4 at New Hampshire Motor Speedway.

One of the pleasant surprises on the 2012 GRC season was the influx of such great talent. Pankow also related to the roster of action sports and motorsport stars: "Usually when you are a series organizer you're always out pounding the pavement to find good guys to race. This has never been a problem for Global RallyCross, there's just so much enthusiasm for it, we announced we were having a series and all of these great cars show up! It just keeps getting better and better. And we had a lot of additions from 2011 to 2012, and 2013 is going to be crazy."

The powerhouse team of the 2012 season was, beyond doubt, Olsbergs MSE and their arsenal of Ford Fiestas. Eventual tour champion Tanner Foust piloted the Rockstar Fiesta to victory, but the team was not without its run of mishaps. Dominating the early season was former World Rally Champion Marcus Grönholm. The Finn looked almost unbeatable after winning the opening round in North Carolina and the second round in Texas but crashed after a bad landing on the gap jump during X Games practice sessions. Grönholm ran into a concrete lightpole base and decelerated from 50 mph to zero in a couple of feet. Head trauma was the worst result of this crash and would prevent him from being medically cleared to return to racing later the rest of the season.

Fellow Finn and OMSE driver Toomas "Topi" Heikkinen was also unfortunate at X Games in a spectacular crash over the same jump that left his car upside down and on fire. Heikkinen escaped the flames, but the resulting injuries to his lower leg would take him out of contention until Round 5 at LVMS where the pain of driving on a not-quite-healed foot would cause him to be less than competitive.

Then, during practice for the GRC final round at the Vegas SEMA show, OMSE's David Binks crashed on the re-imagined dirt version of the gap jump. The native of Newcastle, England, was lucky to avoid serious injury, but his Ford Fiesta was not so lucky. He would spend the final round of the championship sitting on the sidelines.

That left the final driver of the OMSE squad, Brian Deegan, to contend with Foust for the season championship, a race that came right down to the wire during the second stop in Las Vegas. Unfortunately for Deegan, Foust was just too good and too precise on the day and even the presence of the 2012 European Rallycross Championship winner, Timur Timuryzanov of Tatarstan in the Russian Federation, was not enough to spoil Foust's plan. Deegan would have to settle for second place in the race and in the championship hunt.

Some special mentions were worthy in this season. First, the Scott-Eklund team of Andy Scott and Samuel Hubinette in their surprisingly quick Saabs. Hubinette took second place in the race at New Hampshire Motor Speedway after a thrilling lap of door banging with a hard-charging Travis Pastrana [who would eventually take the win]. Hubinette was fast right through until the final round, but after some bad results early in the season, he was forced to settle for a third-place tie [with Rhys Millen] in the championship race behind the flawless Fords.

[+] Enlarge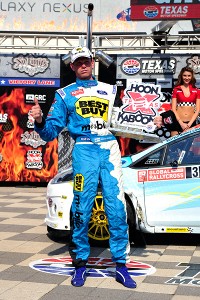 Robert Laberge/Getty Images for Texas Motor SpeedwayMarcus Grönholm was unbeatable in the first two rounds, but a frightening injury at X Games ended his season prematurely.

Hubinette's boss, Scott, is a partner in the team with Swede and legendary rally champion Per Eklund. Scott might have become the season's most unlikely villain. The grandfather and owner of a Scottish trawler fishing fleet became notorious for taking out Pastrana in their first heat race at X Games Los Angeles. After plowing Pastrana into the wall on Turn 1, the 199 Dodge Dart was too badly damaged to be repaired for a last chance qualifier and so action sports' golden boy had to sit out a race he was favored to finish well. Scott later that evening expressed to me, "I might be the most hated man at X Games right now," though it was unlikely that Pastrana's pitchfork wielding mob would have even recognized the affable Scotsman once he was out of his racing suit.

Pastrana's own racing team had a season of challenges while trying to dial-in the new Dodge Dart. Though he fared well in what was one of the season's most exciting races in New Hampshire, he would not do quite so well in the other outings. In North Carolina, he was tagged into the wall by an overzealous Heikkinen, then Pastrana overjumped the metal landing in Texas and almost folded the Dodge in half. After some rapid repairs and while leading the race he tagged a water barrier on a tight right-hander and dislocated his shoulder in the process.

Las Vegas Motor Speedway would also be a sad ending for the 199 team, but like all of the previous races it saw Travis doing double duty in a NASCAR race earlier in the day before jumping into his rallycross car with barely a breath in between. If there was an award for "hardest-working man in rallycross" it would certainly be awarded to Pastrana. As the season drew to a close, he was forced to sit out the last race after surgery to repair that weak shoulder, sitting on the sidelines as team owner and giving off-road truck racing champ Bryce Menzies an opportunity to race the Dodge.

The Global RallyCross management also announced some new equity investment for the series future as the SEMA race began.

"GRC has incredible momentum and along with that momentum comes really high expectations from all of the stakeholders, whether it be the manufacturers, the sponsors, the teams …," Pankow said regarding what the new investment means. "In order to keep up with and exceed those expectations we need cash and we need cash now. We had enough of a proof of concept where it made sense to go out and sell some equity to bring some cash through the door, so that we can stabilize the business, improve the production and improve the product."

So what do we have to look forward to in 2013? Pankow was a little coy, but offered some tidbits of information.

"2013 is going to be cool. We know we've got some exciting new cars coming into the sport -- a little too early to say what. Also some new drivers, I don't want to say who because I don't want to steal the thunder from their announcements," he said. "In addition to that we expect a stronger and more professional organization and a better show just all the way around. When I say 'show' I am talking about the live show. For us, if 2011 was proof of concept and 2012 was critical mass, 2013 is about operational excellence."
Action Sports
Aside from being the go-to guy for Red Bull X-Fighters, X Games and other big FMX contests, Sewell is also an on-air personality, tastemaker and columnist.
ALSO SEE

Keep it here for everything you need to know about the 2012 Global RallyCross Championship.
---
Rally News
---
Rally Features
---
Rally Video
---
Rally Photos
ESPN Action Sports »