Day 2: GRC Snoqualmie RallyCross
RallyCross finals in round 2 of the Global RallyCross Championship.
GRC Stop 2: RallyCross Final
After an exciting race with flat tires, wheels coming off, and even a car fire, Tanner Foust comes away with the win. Champagne Included.
GRC Stop 2: RallyCross Final
A day after dislocating his shoulder in the Super Rally final, Tanner Foust won the RallyCross competition at the second round of the Global Rally Championship, "Twin Peaks," in Snoqualmie, Wash. Foust spent most of the day battling against his injury, simply trying to make it to the finals. When his rivals in the A Main suffered flat tires, Foust was perfectly positioned to take advantage and win the event.
"My shoulder and I aren't good friends right now," Foust said at the podium. "I was just fortunate and lucked out while others had problems."
Michael Jernberg, the only other driver to have a trouble-free run in the final race, finished second. Jernberg damaged his Skoda Fabia heavily during Friday's action, but the crew worked late into the night to make repairs -- an effort that was made very worthwhile by the podium finish today.
"The car worked very well today," said Jernberg. "I had a good, clean run, and a good finish."
Best Buy driver and Ford team manager Andreas Eriksson was leading the finals when he suffered a puncture. Though he kept driving, he was unable to hold off Foust or a hard-charging Jernberg, finishing third.
"I got a win yesterday," said Eriksson. "From the start, I did a good job, and had the lead, but then I got a flat tire, and tried as hard as I could, but it was impossible to stay ahead."
Fourth place went to Stephan Verdier, who also suffered a flat, while fifth went to Rhys Millen, whose Hyundai Veloster was noticeably down on power in the final laps.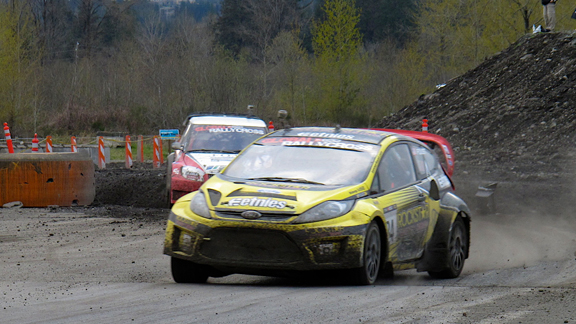 Dean Campbell/ESPNTanner Foust en route to a RallyCross victory in Snoqualmie, Wash.
The story of the weekend belongs to Dave Mirra. After rolling the car in practice yesterday, he was eliminated in the quarterfinals in a pitch battle with Stephan Verdier. Today, Mirra was back and determined to prove his abilities. During a heat race, Mirra crashed into concrete barriers, breaking both rear wheels and damaging his rear suspension. The team scrambled to make repairs, and Mirra returned for the B Main, where he finished second, advancing to the A Main final, where he finished last after snapping a rear corner off the car and suffering an engine fire.
"The guys worked so hard this weekend to keep me in it this weekend," said Mirra. "I can't wait to get out in Colorado and put together a clean run."
Mikael Eriksson finished first in 2WD in his Porsche 911. Though conditions had dried out through the afternoon, an advantage for the powerful rear-wheel-drive car, conditions also got worse as big ruts developed on the gravel portions of the track.
"It as a nice drive today, and a good day," said Eriksson, who also won the 2WD class yesterday in Super Rally. "I will be back for Colorado to kick some butt."
Second in 2WD went to Nitro Circus driver Matthew Johnson, the RallyCross winner at the Irwindale event last month.
"Yesterday the car needed work, but today it was the driver who needed work. This car needs a lot of development, but I also need to be better at driving it," said Johnson. "It all had to work, and in the finals it did. If I'm not on the edge, I'm not having fun."
Dillon Van Way was third in 2WD in his Ford Focus. Van Way had endured a litany of problems through the day but put together a solid run in the finals, despite continuing issues.
"Oh man, it's been a tough day. We've broken axles, overheated, popped a tire off the rim," he said. "I lost the brakes in the finals and had to downshift to slow down, and was able to bring it home in third. Today, I'm happy with that."
A capacity crowd was out to watch the second round of the Global RallyCross Championship. Next, the series moves to Colorado Springs, Colo., for the "Last Chance" event, a final opportunity for drivers to earn an invite to the X Games and the event where the 2011 Global RallyCross champions will be crowned. Slated for June 17-18, the event falls on the same weekend as the famous Pikes Peak International Hillclimb.
AWD RallyCross Finals
Position
Number
Driver
Car
1
34
Tanner Foust
2011 Ford Fiesta
2
4
Michael Jernberg
2008 Skoda Fabia
3
3
Andreas Eriksson
2011 Ford Fiesta
4
12
Stephan Verdier
2006 Subaru STI
5
67
Rhys Millen
2012 Hyundai Velostar
6
40
Dave Mirra
2011 Subaru Impreza
7
115
Joseph Burke
2006 Mitsubishi Evo
8
418
Jimmy Keeney
2007 Subaru Impreza
9
198
Arkadiusz Gruska
2006 Mitsubishi EVO IX
10
33
Richard Burton
2007 Subaru STI
2WD RallyCross Finals
Position
Number
Driver
Car
1
120
Mikael Eriksson
2002 Porsche 911/996
2
46
Matthew Johnson
2004 Mazda RX-7
3
600
Dillon Van Way
2002 Ford Focus
4
649
Cody Crane
1998 Honda CRX
5
258
Kris Dahl
1998 Honda Civic
6
64
Randy Zimmer
1996 Mazda Miata
7
141
Sean Medcroft
1986 Merkur XR4Ti
8
466
Brian Gottlieb
1988 Toyota FX-16 GTS
9
85
Doug Folsom
1979 Dodge Omni
10
742
Adam Crane
Toyota Corolla
ALSO SEE

Keep it here for everything you need to know about the Global RallyCross Championship.
---
Event Info: Global RallyCross
---
March 25-26 at Irwindale: The Revolution
---
April 15-16 at Snoqualmie: Twin Peaks
---
June 17-19 at Pikes Peak: Last Chance
---
Rally News
---
Rally Video
---
Rally Photos
ESPN Action Sports »
MOST SENT STORIES ON ESPN.COM