Woodward Beijing Gallery
onClick="window.open('http://espn.go.com/action/freeskiing/gallery?id=5198402','Popup','width=990,height=720,scrollbars=no,noresize'); return false;">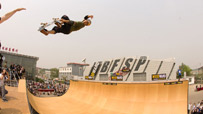 WIDTH="203" HEIGHT="114" BORDER="0" ALT="">
To see some of the sprawling awesomeness that is Woodward Beijing, check out these photos. onClick="window.open('http://espn.go.com/action/freeskiing/gallery?id=5198402','Popup','width=990,height=720,scrollbars=no,noresize'); return false;">Gallery »
BEIJING -- With Chinese government officials peering down from a dais, and the sound of the Misfits -- and strange cotton seeds like snow flurries -- floating through the air, a group of street skaters and freestyle BMX riders attacked the features on a massive 32,000-square-foot skate plaza as part of a demonstration during the grand opening of Camp Woodward's first action sports training facility overseas.
Woodward Beijing -- officially Beijing Fashion Skate Park -- staged a surreal opening celebration Saturday. Highlighted by a best trick skate contest, the event included cheerleading and parkour demonstrations, and concluded with a thundering finale of fireworks. The party continued Sunday when Woodward opened its doors to the public free of charge and action sports participants from around China got a glimpse of a supersized state-of-the-art facility.
"Hey, we got the build done, we did the show," said Gary Ream, managing owner and president of Camp Woodward. "Now we've got to get down to work and spread this passion the right way, this lifestyle the right way."
Built on the grounds of a four-star resort property in Daxing, a rural district renowned for watermelons south of central Beijing, the Woodward facility features 410 acres of indoor and outdoor terrain. The skate plaza, built by California Skateparks, features marble ledges, rails, hubbas, Euro gaps, kickers and manual pads. And a 40,000-square-foot indoor facility, roughly the size of a football field, features two street courses, a mini-ramp, wooden bowl, vert ramp, and resi ramps and foam pits for training.
"This is probably one of the best uses of space I've seen in a skate park," said Tony Hawk, who was one of several big-name skaters, freestyle BMX riders and action sports industry leaders from around the world invited for the opening. "They've really captured every type of skating in it in every way."
In addition to the likes of Ryan Sheckler, Pierre-Luc Gagnon, Sandro Dias and Anthony Napolitan, the event attracted some top action sports athletes from China, and a slew of government officials, VIPs and their families, who often seemed bewildered by what they were watching.
Still, the skaters and BMX riders from China, and their counterparts from the West, didn't have much difficulty understanding each other despite lacking a common language. "It's a little bit difficult to talk to them because they can't speak English," Napolitan said. "It will be fun to ride with them because even though we can't talk, we share an understanding of bikes."
Sheckler, too, found common ground with Chinese skaters. "They're just skating, shredding, living their lives, having fun on their boards, just like we all do," he said. "It's cool to see these kids skating. They're psyched to skate with us. We're psyched to skate with them. It's just a good feeling."
Built with funds from the Chinese government and run by Woodward staff under a licensing agreement, the camp will offer programs in skateboarding, BMX freestyle, inline skating, graphic design, video and photo labs, music recording, dry-land skiing and snowboarding, and language lessons. There will also be programs in cheerleading and parkour. The rest of the resort facility features dorms, a bowling alley and swimming pool. Based in the U.S., Woodward has camps catering to action sports and gymnastics in Pennsylvania, Wisconsin, California and Colorado. But Woodward Beijing is the first camp of its kind in Asia, and one of the premier action sports facilities in the world.
"I walked in that building earlier and there were a lot of Chinese locals in there," Ream said. "That's good and I think with the help of a lot of the American brands, we'll be able to spread this word across China and to give that talent an opportunity."
By the time the skate contest got under way during the afternoon Saturday, most government officials had already gone and the crowd had thinned considerably. Still, the 10 skaters in the field -- none from China -- put on a show during an hourlong jam format for a share of a $15,000 prize purse. Put on by Alli, the group that produces the Dew Tour, the contest was broken up into three 20-minute intervals, each on different zones of the course.
Mystery am Tom Asta killed the rails, winning two of the three events -- on a three-stair set and a six-stair set -- with a smooth switch frontside heelflip and a nollie heelflip to crooked grind. Sheckler landed a huge backside 360 Ollie kickflip and won the overall title by placing second in two events, and fourth in the other with a kickflip nose manual on a manual pad and ledge setup.
"The fact that Woodward is able to exist here is super important," said Che Lin, a Nike sponsored pro skater from Zhengzhou, China. "It will give kids an opportunity to come here and hopefully increase their talent. Who knows, maybe we'll come out of here with our own Sheckler."