Qualifying Remarks
Tampa Pro qualifying round
To almost nobody present's surprise, Torey Pudwill blew past all of his competition Saturday and qualified in first place just ahead of Luan Oliveira. Pudwill's first run was flawless and included tricks like a backside lipslide up and across the hubba ledge that everyone else was busy going down. The day seemed to belong to Pudwill even before he took his runs. Many of his new Plan B teammates including Colin Mckay, Ryan Sheckler and Pat Duffy sported T-shirts with a giant picture of Pudwill's face on them to informally announce his arrival onto the elite squad.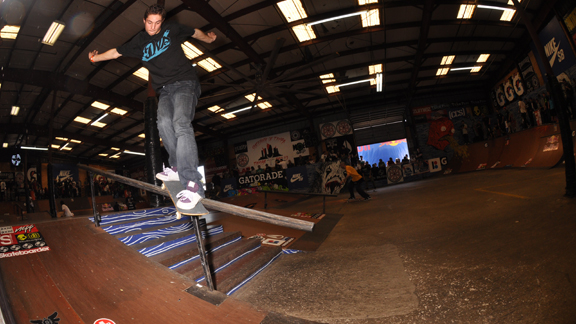 TadashiTorey Pudwill was by far one of the most fun people to watch all day. This Smith was part of a flawless run.
Although he qualified second, Oliveira had the crowd's rapt attention as well. Tampa being the first pro contest for the rookie, it sure didn't seem that way. Oliveira has nearly a home court advantage since he won Tampa am on the same course just a few months ago and won it the year before as well. Oliveira pulled some crowd pleaser tech moves including frontside 360 heelflips down the Tampa street course seven-stair. The top five were rounded out by Sierra Fellers, Paul Rodriguez and Nyjah Huston. Huston, the young dread newly at the helm of his own board company I&I, had a flawless run though perhaps not as technical as some of his peers who placed higher.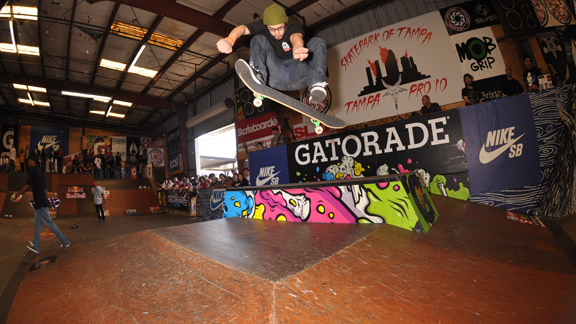 TadashiRookie pro Justin Brock tossed these steezed out 360 flips over the pyramid every try. And yes, this is a make.
Torey Pudwill and Luan both receive "Golden Ticket" buys straight into tomorrow's finals. Fellers, Rodriguez, Huston and Sauder will join the 25 other qualifying skaters in the semi-finals as well as previous Tampa Pro winners who get an automatic buy into the semi-finals [that list includes Gershon Mosley, Kyle Berard, Dennis Busenitz and Eric Koston]. Semi-finals begin Sunday at noon and with the amazing caliber of skating seen so far, things should get very interesting.
The skaters that qualified for the semi-finals are as follows:
1. Torey Pudwill 2. Luan Oliveira
3. Sierra Fellers 4. Paul Rodriguez
5. Nyjah Huston 6. Keegan Sauder
7. John Rattray 8. Chaz Ortiz
9. Tyler Hendley 10. Fabrizio Santos
11. Peter Ramondetta 12. Matt Miller
13. Rodil Jr. 14. Robert Lopez Mont
15. Chad Bartie 16. Ryan Sheckler
17. Billy Rohan 18. Andrew Pott
19. Danny Fuenzalida 20. Stefan Janoski
21. Chad Fernadez 22. Milton Martinez
23. Anthony Shetler 24. Shuriken Shannon
25. Danny Cerezini 26. Sammy Baptista
27. Mike Peterson 28. Chris Troy
29. Neverton Casella 30. Justin Brock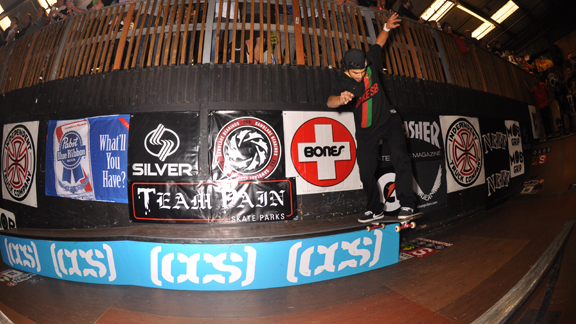 TadashiPaul Rodriguez pulled this switchstance backside tailslide in both of his nearly flawless runs.
Also See
You may know the Tampa Pro, but here's some other skate content you may not have seen.
Spot Builders »
MORE TAMPA CONTEST COVERAGE
MORE GREAT SKATE CONTENT
Features
Photos
Video
MORE ACTION SPORTS HEADLINES
MOST SENT STORIES ON ESPN.COM