Tony Hawk kicks off European tour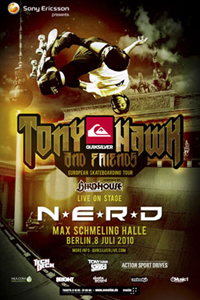 On July 8, the Tony Hawk And Friends European Skateboarding Tour rolled into Berlin's Max Schmeling Halle, where a crowd of 5,000 enjoyed a demo by Hawk, Jesse Fritsch, Jean Postec, Kevin Staab, and Sandro Dias on a 13-foot vert ramp.
The stop was the latest on the tour, which also features live musical performances. The Berlin show was accompanied by N.E.R.D.
"I'm very excited to skate in other cities after the overwhelming response we received from our Paris show," Hawk told the Quiksilver event site. "The European crowds are amazing, so it will be fun to see how they react in different countries. I've skated in all of these cities, but never done demos of this size in them. They're in for a treat."
The tour continues in Rome on July 15, followed by Barcelona, Spain on July 18 and wraps up on July 21 in Brighton, England. Check out quiksilverlive.com for more info.
REAL STREET 101
12 skaters. 12 videos. Their vision. Their way. All for X Games gold. This is Real Street.
XGames.com/RealStreet
The 12 skaters on this page have each filmed and submitted a 60-second video clip showcasing their best tricks on street. Beginning July 25, you'll be able to vote for the Fan Favorite before all 12 clips are shown on the X Games 16 TV broadcast Sunday, Aug. 1. A panel of pros will award $50,000 and a gold medal to the winner.
VOTE NOW!
---
X Games Real Street video entries
---
More on ESPN Skateboarding
---

Past X Games
---
More Action Sports
X Games home »
Action Sports home »
MORE ACTION SPORTS HEADLINES
MOST SENT STORIES ON ESPN.COM