Girl and (Red) team up to fight AIDS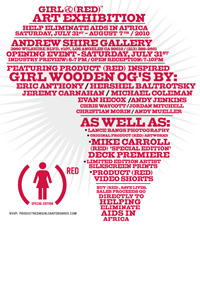 Girl and Product (Red) will team up on Saturday, July 31 to raise money to fight AIDS in Africa. They'll host an art show featuring Eric Anthony, Hershel Baltrotsky, Jeremy Carnahan, Michael Coleman, Even Hecox, Andy Jenkins, Jordan Mitchell, Christian Morin, Andy Mueller and Chris Waycot. The event will showcase Lance Bangs Photography, Original Product (RED) artworks, Mike Carroll (RED) Special Edition Deck Premiere, Limited Edition Artist Silkscreen Prints, and Product (RED) Video Shorts.
The art exhibition will be on display from Saturday, July 31- August 7, 2010 at the Andrew Shrine Gallery in Los Angeles.
MORE ACTION SPORTS HEADLINES
MOST SENT STORIES ON ESPN.COM