Lutzka wins Maloof Money Cup NYC
Greg Lutzka beat out Dennis Busenitz in a heated final to win the Maloof Money Cup
Maloof Money Cup NYC in Pictures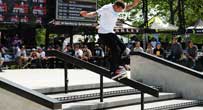 Check out photos of Greg Lutzka's win and more. Gallery

Greg Lutzka is going home with $160,000 from the Maloof Money Cup in New York, held this weekend. Lutzka battled head-to-head for four minutes against the 2011 Tampa Pro champion Dennis Busenitz in a heated final. Lutzka destroyed the course by frontside big spinning down the nine-stair and frontside 270 noseblunting down its rail.
"I love the format," said Lutzka, who parted ways to with Street League in April, which enabled him to once again compete in Maloof events. "It's true raw skateboarding, going out there and not having to feel the pressure. Anyone could have taken this today. I guess I landed some tricks and took it home."
Busenitz skated 12 minutes of head-to-head heats before going into the finals but, as exhausted as one would think he would be, he powered through and went hard until the end, linking tricks together with speed and style. A couple standout tricks were Busenitz's grind up the long black ledge and ollie out over the Water Street replica gap and his high-speed halfcab flip manual on the Maloof stone obstacle. When it was over, the judges had a tough decision to make but the money went rightfully to Lutzka.
The new contest format, which was compelling for the viewers, seemed to take its toll on the skaters. Luckily, the weather was in their favor. A lot of guys were grinding up the hubba ledges and flat rails but only Eli Reed stepped to them switch. Reed pulled a switch frontside 50-50 up the round black rail and a switch manual up the hubba ledge, really impressing the crowd. Other serious crowd pleasers were Jack Curtain's fakie ollie 50-50 down the nine-stair rail, Ryan Decenzo's massive nollie backside heelflip over the bank to flat and Andrew Reynolds' massive varial heelflip down the big stairs.
Although the finals were quite the battle, it was the third round of the elimination that really shook things up. Baker skateboards' Justin Figueroa skated against Busenitz and although Busenitz moved forward, Figueroa landed some impressive tricks. He switch backside 50-50'd the nine-stair with ease and ollied the Water Street replica gap landing in a 50-50 on the entire long black ledge.
In the battle between Lutzka and Darkstar skateboards teammate Ryan Decenzo, they both fought hard. Decenzo was kickflip crooked grinding the hubba ledge and going right into frontside bluntslides down the next ledge with ease. They were going trick for trick until Decenzo got caught up at the end with a nollie heelflip boardslide that he was unable to make. In that time Lutzka did a kickflip backside lipslide that helped him barely pull ahead of Decenzo in the points but squeaked him into the last round.
With the addition of rookie pros Collin Provost, Nick Merlino, Cory Kennedy and Theotis Beasley, the contest had some fresh blood and helped to turn up the already mind-blowing level of skating. We will be sure to see some of these pros returning to the next Maloof Money Cup in Washington D.C. Sept. 3 and 4.
Maloof Money Cup, New York
| Rank | Name | Prize Money |
| --- | --- | --- |
| 1 | Greg Lutzka | $160,000 |
| 2 | Dennis Busenitz | $40,000 |
| 3 | Ryan Decenzo | $15,000 |
| 4 | Justin Figueroa | $15,000 |
| 5 | Nick Merlino | $7,000 |
| 6 | Jackson Curtin | $7,000 |
| 7 | Collin Provost | $7,000 |
| 8 | Sierra Fellers | $7,000 |
| 9 | Eli Reed | $5,000 |
| 10 | Manny Santiago | $5,000 |
| 11 | Andrew Reynolds | $5,000 |
| 12 | Cory Kennedy | $5,000 |
Also See
ESPN Skateboarding knows skate contest coverage.
Maloof Money Cup NYC 2010
Maloof Money Cup OC 2010
Street League
Tampa Pro
X Games
Red Bull Manny Mania
MORE ACTION SPORTS HEADLINES
MOST SENT STORIES ON ESPN.COM