Preview
Day 1
Day 2
Day 3
Nieratko's Tampa
Tampa Pro 2011 Gallery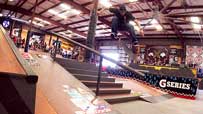 WIDTH="203" HEIGHT="114" BORDER="0" ALT="">
Take a look at all the action from the 2011 Tampa Pro. Gallery

Dennis Busenitz has won Tampa Pro 2011. Busenitz flew to Tampa from his home in San Francisco the night before the finals and came through with a perfect run in his last of three. Busenitz, who won Tampa once before back in 2005, saw the wins (or perhaps the winning celebrations) as being similar.
"Very similar. Champagne and ... weirdness," he said after the scores were announced. "It's good though. I just landed all the stuff I wanted to do."
The final was a fierce contest between Busenitz, Torey Pudwill, Chaz Ortiz, Nyjah Huston, Shane O'Neill, Paul Rodriguez and Luan Oliveira. Though it consisted of the top 10 from semifinals as well as Pudwill and Zered Bassett (the golden ticket winners from qualifying day), the real contest seemed to be between the aforementioned group. Each of those skaters had runs and tricks that could win a heavy contest on any given day. Sunday belonged to Busenitz though, no question about it.
Witnessing Busenitz during his last attempt in the finals (the 12 riders who make the finals are given three runs each) was surreal. He skated faster than anyone else the entire weekend with the possible exception of Mike Peterson. With each run, Busenitz changed up a few of his tricks and went full-speed, full-gusto at every obstacle. Falling more than once during his first two attempts, it was amazing to see him hang on in his last run and continue to do tricks even after his time was up. The entire crowd here in Tampa erupted in amazement and the results in his favor seemed like a foregone conclusion to all in attendance.
[Ed. Note: You'll have to check out our exclusive video of the event (coming Monday) to see most of Busenitz's amazing run but I will point out that his fakie noseblunt nollie flip in was a highlight.]
Nyjah Huston, who took second in Tampa in 2010, took second place again in 2011. Huston's board control was amazing to watch. Had he stuck a few more of his tricks all together in one of his finals runs, he could have been the obvious choice for the win.
Pudwill, who took third, earned the Gatorade Go All Day award for his unstoppable performance. Pudwill also won the Best Trick contest, which followed the final, with a rarely seen or accomplished bigger flip backside 360. To describe it best, Pudwill's board flipped once while spinning a 540 rotation while his body spun 360. It was incredible.
Rodriguez, 2010's Tampa Pro winner, was a heavy favorite going into the weekend and his run, seen near completion in practice, was more technical and trick-filled than nearly all his peers. However, things didn't quite come together for Rodriguez in the final and he had to settle for sixth place.
Altogether, this was yet another fantastic contest put on by SPoTlight Productions and the folks at the Skatepark of Tampa. Seems like they get better every year and the level of competition gets more and more intense. Outside of the competitive atmosphere on the course, the camaraderie of a skateboarding event put on by skaters for skaters makes Tampa Pro something unique and special for all of us in attendance. See you next year.
Tampa Pro final results