Preview
Day 1
Day 2
Day 3
Nieratko's Tampa
Tampa Pro Preview Gallery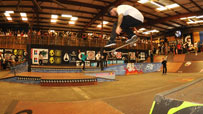 WIDTH="203" HEIGHT="114" BORDER="0" ALT="">
A look at some of the heavy contenders and underrated rippers who could take Tampa Pro 2011. Gallery

With the upsurge in contests over the last few years, it's become increasingly easy to predict who will make the finals of a given event. If Chaz Ortiz or Paul Rodriguez is going to enter, it's not really safe money to bet against them. New formats and layouts that have popped up at the Maloof Money Cup and Street League have catered to the consistent and the ledge/hubba heavies, but if there's any contest out there where a wildcard has a decent shot at winning the whole thing, it's Tampa Pro.
Since everyone who is anyone shows up to Tampa, let's take a quick look at some of the contenders and some of the underdogs that have a good shot at making the finals in this weekend's 17th Annual Tampa Pro.
THE CONTENDERS
Paul Rodriguez: 2010's Tampa Pro winner Rodriguez may be the heaviest contender to win in 2011. A fierce competitor and serious athlete, Rodriguez showed up at Tampa early this year to get his practice in.
"P-Rod got here on Sunday night and skated yesterday and today," said Skatepark of Tampa General Manager Ryan Clements on Tuesday. "That's five days before qualifiers. And he doesn't even have to skate qualifiers [because of his win last year, Rodriguez gets a buy into the finals]. He doesn't even have to skate until this Sunday! He could easily win again."
Luan Oliveira: Two-time Tampa Am winner and a technical wizard, Oliveira went pro for Flip in 2010 and got seventh in his first pro contest at last year's Tampa Pro. Insanely consistent, Oliveira has the ability to put together run that many of his peers can't even compete with.
Greg Lutkza: The man with a distinctive headwear selection who can spin 270 into everything, Lutzka has won Tampa Pro three times before. In 2007, after snow canceled flights, Lutzka and his father drove from Milwaukee, through a snowstorm all the way to Tampa. Lutzka then jumped straight out of the car into his contest runs and still got sixth place.
Chaz Ortiz: Zoo York's youngest pro, the Chicagoan Ortiz was reared on skateparks and cut his teeth wining contests in his pre-teen years. In 2008, Oritz shocked the skate world when he beat out Rodriguez and Lutzka to win the Dew Cup Championship while he was still an amateur. Ortiz will have a run dialed before some skaters have figured out where all the obstacles are.
Nyjah Huston: Sixteen-year-old wunderkind Huston has been sponsored and in skating's limelight since he was 10. He was the overall winner of the 2010 Street League series and lost last year's Tampa Pro to Rodriguez by a fraction. Huston may well show up in Tampa with a quiet vendetta to settle hiding beneath his dreadlocks.
"Nyjah's only 16," says Clements. "He's gonna be around forever. He could be around for 20 years."
THE UNDERDOGS
Peter Ramondetta: Last year's fourth place finisher, Ramondetta is roundly respected by his peers and working dawn 'til dusk in the streets. If he skates in the contest the way he skates on the regular, he'll have a shot.
Dennis Busenitz: Though he won Tampa Pro in 2005, many don't equate Busenitz with contests because it's hard to envision his skating being contained within a contest venue. Busenitz skates faster and harnesses more pop than the majority of his peers. With his highly anticipated part in the upcoming Real video, "Since Day One" nearly wrapped, Busenitz could go for the gusto in Tampa just to pocket some traveling money.
Danny Fuenzalida: Probably the most criminally underrated skater on this list, Fuenzalida makes the finals more often than not. He's got a bag of tricks that rivals every one of the marquee pros who flaunt big contracts and energy drink checks. Keep an eye on Fuenzalida and you're bound to see top tier skating.
Kyle Berard: At only 26, Berard is a 10-year Tampa Pro veteran. He won the Tampa Am in 2000 at 15, turned 16 and won Tampa Pro in 2001. Despite being a highly regarded skater with the ability to make the finals, Berard works a full-time job these days to make ends meet.
"Berard builds concrete parks," says Clements. "It's cool but it kinda sucks for someone who is better than half the dudes who skate tranny and have pro models and shoe contracts."
Mike Peterson: Maybe the biggest underdog on this list, Peterson and the Skatepark of Tampa crew are practically family. Peterson won the Tampa Am in 1999 when he was already 24 and has been a staple at the contest ever since. He qualified first as recently as 2007, finishing ninth overall.
"Peterson could make the finals," says Clements. "He could do a giant lien mellon to disaster on something, a blunt kickflip to fakie, a frontside flip over the pyramid; he can do all that stuff every time."
Heavy favorite or underdog, it's anyone's contest this weekend in Tampa. No matter what the odds are, you never know whose run will come together just right when the pressure's on and everyone is watching.