To cap off an excellent year in skateboarding, and to add to the greatest moments in action sports for 2010 (see that feature list here), I'm bringing you the six other major stories of the year in skateboarding. These six, combined with the four that made it into the action sports end of year list, make a solid 10 for 2010. It was quite a year.
Reynolds' reign

Year-End Gallery
onClick="window.open('http://espn.go.com/action/photos/gallery/_/id/5960832/2010-year-skateboarding-highlights', 'popup','width=990,height=750,scrollbars=no,noresize'); return false;">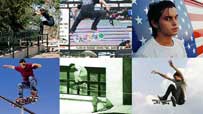 WIDTH="203" HEIGHT="114" BORDER="0" ALT="">Check out shots from skating's biggest stories from 2010.
When a 14-year-old Andrew Reynolds had his first feature video part in Birdhouse Projects' 1992 video, "Untitled," no one could have guessed that his career in pro skating would still be so influential and so progressive that he'd be dropping hammers and making jaws drop 18 years later at age 32. But that's exactly the case. Reynolds' part in "Stay Gold" blew everyone's minds because, despite his widely praised talents and track record, no one was really counting on him to earn the last part in a video packed with spry heavy hitters in their prime nearly a decade younger than "The Boss." Personally, living out in New York, when I got word from the premiere in Los Angeles that Reynolds and not Leo Romero took the curtains of "Stay Gold," my initial reaction was to cry foul. I thought it'd be like when the Foundation gave Ethan Fowler the last part in "Cataclysmic Abyss" as sort of an homage when clearly Corey Duffel's part was the most impressive thing in the video. With "The Boss" however, this was not the case. Reynolds had been stacking clips for "Stay Gold" that are just plain out of hand. We'd seen some of these tricks in print and heard others hinted about. But the best thing about Reynolds' well-deserved curtains is that he kept some hidden gems close to his chest so that even the most cynical skate nerds among us were shaking their heads in disbelief on first viewing. Here's hoping he'll surprise us yet again in the coming years.
Heath's graceful bow out
Heath Kirchart's had a dominant career that has spanned two decades. From early days on foundation wreaking havoc with Josh Beagle through groundbreaking parts in "The End," "Sight Unseen," "Photosynthesis" and more, Kirchart made a career out of breaking boundaries, innovating tricks and taking things one step further down the road. Throughout the last several years, Kirchart spoke openly about his struggle to keep up with the level of progression as protégés and fans like Leo Romero nipped at his heels and tried to emulate his approach.
Following his standout, last part in 2009's Alien Workshop video, "Mind Field," a hungry public eagerly awaited Kirchart's follow-up in this year's "Stay Gold." However, unbeknownst to the public at large, Kirchart had already decided to cash in his chips; he told his sponsors and friends that "Mind Field" would be his last video part and that, though he was still skating, he no longer wanted to work on video parts or shoot interviews. Outside of Heath's inner circle, the rest of us didn't really know about his decision until the Los Angeles world premiere of "Stay Gold" when the film opened with a montage of Heath through the years and then a handful of new tricks (one of which was a surprising and amazing backside 360 nosegrab on the MegaRamp) meant as a capstone or coda on his flawless career.
In the aftermath of Kirchart's retirement, speculation ran rampant about whether he would, at some point, return to pro skating and if there was more footage left behind. Kirchart didn't worry about that, though. He began the next chapter in his life by setting a new impossible challenge for himself: riding a bicycle across country. With little preparation and no formal training, he completed that journey in 57 days.
P-Rod's solo act
More than maybe any other skater out there, Paul Rodriguez approaches his career as a very professional athlete. From a regular training regimen to the way he meticulously learns and masters new tricks, Rodriguez's dedication is something to be admired. And the hard work pays off for him. Rodriguez has won most major contest events from X Games to the Maloof Money Cup to Tampa Pro and beyond. He's got the great Nike shoe deal and a host of other sponsors that keep his pockets padded. But beyond all that shine, Rodriguez has always kept his head in the game and stayed true to what skating means to him. For Rodriguez, that means he's still on his grind in the streets and continually churning out video footage in the traditional style.
When Rodriguez's board sponsor, Plan B was forced to postpone a major video production for an indefinite period of time due to team changes and injuries, Rodriguez wasn't having it. With so much footage stacked up, Rodriguez didn't want the tricks he'd logged to get old in the canister and lose their impact by appearing outdated. And so, on November 15, 2010, Rodriguez, in conjunction with Plan B, released a solo, 5-minute, video part on iTunes. That video part is hands-down one of the most progressive of the year. In his flawless, technical manner Rodriguez quietly raised the bar taking tricks further, higher and longer. He also dropped quite a few never-been-dones including a nollie late front foot flip backside nosegrind ender that defies logic. If you haven't see it yet, as a fan of skateboarding, you owe it to yourself to take a look.
The "Dylan" video
Dylan Rieder used to be a handsome kid with a lot of talent and style that hadn't quite realized his full potential. In 2010, Rieder defined himself as a ballsy innovator in the vein of Heath Kirchart and Jamie Thomas who made their mark by pushing themselves to the limits of their own bodies. The difference between Rieder and the aforementioned legends is that where Kirchart and Thomas solidified their reputations over a few distinctive video parts in the prime of their careers, Rieder managed to do the same with just one part that is head and shoulders better than anything he ever put out before it.
The "Dylan" video, filmed and edited by Greg Hunt and released by Gravis, was a shocker when it dropped. Following a solid but hardly stand-out part in 2009's "Mind Field," it seems Rieder felt he still had something to prove. Following a few bumps in the road and some straight talk from sponsors, team managers and people that care about him, Rieder cleaned up his act and went to work on a video part that is equal parts gnarly and stylish. It pushes the limits of skateboarding. When you can do flatground impossibles over waist-high benches and take drops that rival the heights of two story buildings, you're going to turn some heads.
Rookie of the year
Australia's Shane O'Neill was a phenomenon before he ever turned pro. When his pro debut coincided with a solo video part released by The Berrics, he'd already established a heavy fan-base. O'Neill kept things moving by having one of the most productive and outstanding rookie years in skateboarding's history. At his first major pro contest, The Maloof Mopney Cup in NYC, O'Neill wowed the crowd and his peers by skating like a seasoned veteran with not even a hint of nerves going up against guys like Chris Cole, Paul Rodriguez, Eric Koston and more. Though he didn't make the cut for that contest's final, he won over every disbeliever with a show stopping switch kickflip backside lipslide down the course's 9-stair rail. And that was only a taste of what was to come.
Signed on to Rob Dyrdek's elite Street League contest roster, O'Neill, came out swinging and won the series finale in Las Vegas. His total bankroll for the year including all contest winnings and endorsements came out in the several hundreds of thousands range. Not a bad first take.
RIP Adio Footwear
On Nov. 22, Adio footwear all but disintegrated in the eyes of core skateboarders the world over. The brand, whose license is owned by AL&S footwear, announced that it was cutting its entire skateboard team, its marketing department and closing the doors of its California offices. Though the brand had gone through stages of downsizing in recent years, it was a brand with a deep legacy in skateboarding. Tony Hawk, Shaun White, Jamie Thomas, Steve Berra, Jeremy Wray, Bam Margera, Kenny Anderson and many more have all ridden for Adio at one point or another during the brand's storied history. Adio's biggest video release was 2001's memorable "One Step Beyond" filmed and edited by Josh Stewart. That video solidified the careers of many and sparked the careers of several more.
In recent months Joey Brezinski had taken on a Captain-like roll at the brand helping develop the team and bring on new talent including Jordan Hoffart and, most recently, Ronnie Creager. Though Adio continues to exist as a brand, its lack of support for the core skate community has all but killed it dead in our eyes.