Leo Romero Real Street interview
Sarcasm included: Leo Romero takes on Real Street with his usual elan.
Leo Romero is one of the most sought after skaters out right now. Filming for the highly anticipated Emerica footwear "Stay Gold" video, as well as Toy Machine skateboards' upcoming "Brainwash" promo video, Romero still managed to get a gnarly full part for the X Games Real Street contest. When you're like Romero and your warmup tricks are better than many pros' standout video parts, getting a little extra footage isn't all that tough. But getting footage that holds up to Romero's already insanely high personal standards is another matter entirely.
It's sort of rare to see you at contests, why is that?
Because most contests are stupid. They're are all the same.
Have you ever been approached by a giant corporation to endorse their logo across your chest for contest/TV air-time?
Everyday of my life.
Where do you draw the line?
There is no line.
If there was a line where would it be?
Definitely below the belt.
Didn't you want to turn in a minute of slams for your "Real Street" part?
Yeah.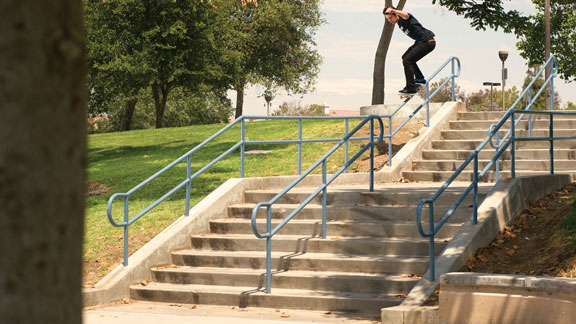 Michael BurnettKinks like these are not to be trifled with unless, that is, you're Leo Romero and you skate rails like they're curbs.
Why didn't you?
Because I'm saving them for my other part.
Don't you have three video parts dropping this year?
Yeah, "Stay Gold," "Brainwash" and "Real Street."
Will we see a fourth one?
No. I'm done after this, I'm becoming a hipster after all these parts drop and never skating again.
Have you ever won a gold medal for anything?
Nah, never. I'm Mexican, dude.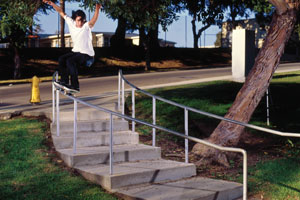 John Bradfordleo hops on a curved rail 50-50 and glides through the turn.
If you win the gold, would you let Dan Lutheran wear your medal to pick up chicks?
Oh, that would be the first place it would go. It's for sure going to be around Daniel's neck.
Do you like this style of contest better or worse compared to the traditional one minute run or jam session?
I don't know, I guess most contests are stale but this is way better since it's real street skating that you get to see. I don't like taking away from video parts, though.
Who's Real Street part did you like best so far?
I just watched Tommy Sandoval's and I liked it.
Who's gonna kill it in the Toy Machine video?
Dan Lu and Matt Bennett for days.
Finish this sentence: Emerica's "Stay Gold" video is going to:
Disappoint everybody!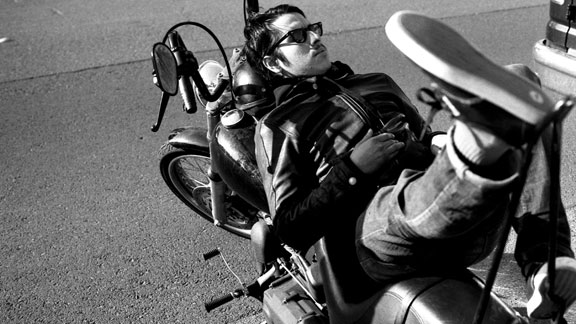 John BradfordLeo relaxes on his bike somewhere along the open road.
ALSO SEE

Everything you need to know about X Games 16.
---
Results
---
Daily Coverage
---
Photos
---
BMX Video Highlights
Moto X Video Highlights
Skateboarding Video Highlights
Rally Video Highlights
---
12 skaters. 12 videos. Their vision. Their way. All for X Games gold. This is Real Street.
A new medal event for X Games 16, Real Street is the first contest of its kind. Twelve of the top individual pros in street skating each filmed 60-second video parts on street terrain for X, and all 12 video parts aired on the final day of the X16 telecast. A panel of pros -- Pat Duffy, Ed Templeton, Jamie Thomas and Geoff Rowley -- chose the winning part and awarded $50,000 and an X Games gold medal to Nick Trapasso. You, the fans, picked Zered Bassett as the fan favorite.
---
X16 Previews
---
Past X Games
---
30 For 30 X Games Special
---
More Action Sports
Be sure to check out ESPN.com/Action for all the latest in Skateboarding, Surfing, Snowboarding, Freeskiing, FMX and BMX.
X Games home | Action Sports home
MORE ACTION SPORTS HEADLINES
MOST SENT STORIES ON ESPN.COM