Luan Oliveira Real Street interview
Brazilian powerhouse and rookie pro, Oliveira looks to take Real Street by storm.
Now that the young Brazilian has turned pro, 19-year-old Luan Oliveira is a serious threat at any contest. The first and only skater to win Tampa Am twice (in back-to-back years no less), and the recent winner of the DVS CPH Pro out in Copenhagen, Oliveira is on a tear. Fresh off his technically mindnumbing part in Flip's "Extremely Sorry" video, Oliveira hasn't slowed down a pace. His X Games Real Street part will not disappoint.Though he's a young man of few words, (in English, at least), Oliveira's skating speaks for itself.
ESPN.com: Tell us a little about filming for this Real Street video. How did it feel to film for this compared to filming for other video parts you've worked on in the past?
Luan Oliveira: I didn't really know I was filming for it at the time.
What filmer/editor did you work with for Real Street and what's your relationship like with that guy?
Ewan Bowman filmed and edited it. We're good homies and film together all the time.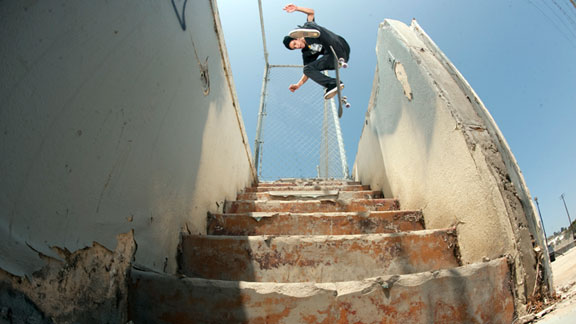 Michael BurnettLuan's flip tricks are on lock. This frontside halfcab flip got handled with the quickness.
What do you think of the whole concept of video part for cash and prizes as opposed to a structured contest environment?
Real contests are probably more fun because of everything else that goes on around it, seeing friends that you do not normally see, etc.
Did any one trick or line make for a memorable session?
The footage filmed at the Wedge [a famous Arizona skate spot that has been turned into a skatepark] was a really good session that stands out. A lot of other things, trick wise, went down that day.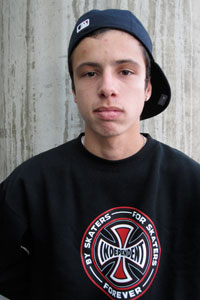 Andrew ShustermanLuan Oliveira does some mean muggin'.
Was there anything you wanted to get for this part that you couldn't?
No, because it was just normal filming.
Of the other skaters in the Real Street contest, which skater's part are you looking forward to watching, and apart from yourself, who would you put your money on to win the whole thing?
Tommy Sandoval's, Corey Duffel's and Jake Duncombe's mainly, and my money would go with Tommy.
If you win, what will you do with the $50,000?
Save some and buy an apartment for my grandfather in Porto Alegre, Brazil.
You just won the CPH pro, how was that contest compared to more mainstream comps?
Just a lot more fun than a mainstream contest. It was like a big party.
Who would you like to see in next year's Real Street contest?
David Gonzalez.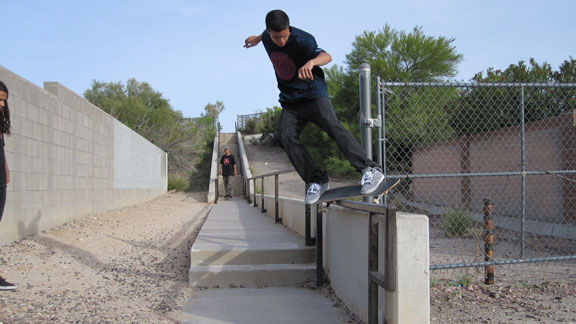 Andrew ShustermanLock and load. Luan takes a long feeble grind for a spin while out on a desert filming mission.
ALSO SEE

Everything you need to know about X Games 16.
---
Results
---
Daily Coverage
---
Photos
---
BMX Video Highlights
Moto X Video Highlights
Skateboarding Video Highlights
Rally Video Highlights
---
12 skaters. 12 videos. Their vision. Their way. All for X Games gold. This is Real Street.
A new medal event for X Games 16, Real Street is the first contest of its kind. Twelve of the top individual pros in street skating each filmed 60-second video parts on street terrain for X, and all 12 video parts aired on the final day of the X16 telecast. A panel of pros -- Pat Duffy, Ed Templeton, Jamie Thomas and Geoff Rowley -- chose the winning part and awarded $50,000 and an X Games gold medal to Nick Trapasso. You, the fans, picked Zered Bassett as the fan favorite.
---
X16 Previews
---
Past X Games
---
30 For 30 X Games Special
---
More Action Sports
Be sure to check out ESPN.com/Action for all the latest in Skateboarding, Surfing, Snowboarding, Freeskiing, FMX and BMX.
X Games home | Action Sports home
MORE ACTION SPORTS HEADLINES
MOST SENT STORIES ON ESPN.COM