In 2010, Sean Malto won the second stop of the inaugural Street League season by sticking to a barrage of tricks that he has on lock and dominating the course. But when this year's Street League got underway last month in Seattle, Malto was on the sidelines recovering from a knee surgery and unable to compete.
This weekend Street League rolls into Malto's hometown of Kansas City, Mo. Malto, fresh off of a rigorous rehabilitation program, will be on the course and ready to compete. ESPN caught up with Malto to talk about his injury, recovery, and his strategy for tackling the first big pro skateboarding event to be held in his backyard.
Street League Seattle Gallery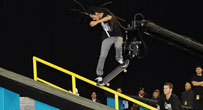 WIDTH="203" HEIGHT="114" BORDER="0" ALT="">
Take a look at all the action from the first stop of Street League 2011. Gallery

ESPN: So, are you all healed up yet?
Sean Malto: It's like 85-90 percent. The knee is good, it just gets sore. I don't think it's going to give out at all. I've been skating on it for the last two weeks. And the last four days or so I've been jumping down stuff. It feels pretty good.
Give us the run down on your injury, surgery and recovery.
I kind of fell and put all my weight on my knee, kind of hyper-extended it. I felt a weird pop. I didn't think it was that bad. I stayed off it for a couple weeks and then started skating again. Then it still hurt so I went and got it checked out. The doctors were like, "Hey, you tore two parts of your meniscus." I was like, OK. What do I do? They told me that the smart thing to do was to just get it fixed right then. The recovery time was between six and eight weeks -- that was coming from a doctor here in Kansas City. But I figured if I was going to get surgery, I might as well have it done by the right person. There's a doctor in San Diego that did Danny Way's knees. So I figured I should go see him. I flew out to San Diego and talked to that doctor. He told me that if I got the surgery right then and stuck to physical therapy, that I should be good for the Kansas City stop of Street League. I was like, "You know what? Let's just do it."
I got the surgery. Went to a physical therapist here in Kansas City, gave him my deadline and he gave me a routine. I stuck to the routine and it worked out.
Were you bummed not to be able to compete in that first stop of this year's Street League in Seattle?
I was so bummed. Obviously I want to skate every day and they were like, "You're gonna be out, off the board for five weeks." I was bummed, but I'm just hyped that I'm here for the Kansas City stop and I'm good to skate in this contest. Now that my knee is feeling good and everything is here, it just makes it that much better.
What did you do with all that time off the board?
I actually just kind of kicked it at home. I haven't been at home for that long in a while. It felt good to spend time here and chill out. I actually worked on my place. Mikey Taylor's wife, Jen, is an interior designer so we just worked on setting up my loft in Kansas City.
How big a motivator is it for you to have Street League -- a contest you've won in the past -- come to your hometown?
Winning it would be awesome. Winning any of them would be awesome, but you kind of have to take these things for what they are. I'm gonna have fun. I don't want to be overly motivated to where I'm not gonna have a good time. It's my hometown, I should enjoy this one. I've been skating and trying to work on my tricks and everything. For this one, I'm really gonna try. I'm just hoping I can make the finals and just do something, just be able to skate in front of the hometown [crowd].
How do you think the K.C. crowd is going to react to Street League?
It sounds like it's going to be a good turnout -- just listening to people on Twitter and Facebook and talking to people at the skate shop, Escapist. It seems like everyone's excited about this. It's definitely a big event and we don't get a lot of things like this here.
There's a strong crew of skaters coming out of Kansas City right now. Who are the guys you think have potential to go pro and maybe even compete at the Street League level?
It's insane some of the talent we've got out here. We have our park; we got an indoor training facility skate park in February and everyone's been skating that. People are getting so good -- particularly Josh White and Ryan Pierce. I can see those guys going far. It's a little harder here in the Midwest to get your name out there but I think they can make it happen. Since Street League's coming here, I think there's going to be a lot of people looking at Kansas City and the scene.
You went to the first Street League stop in Seattle and cheered your friends from the sidelines. Did you take note of anything that you think will directly affect your approach to the contest?
I was thinking about it a lot because me and Mike Mo [Capaldi] were going over it a whole bunch. I wanted Mike Mo or Mikey [Taylor] to win; those are my two closest friends in this contest. We were talking about it. It was pretty fun, not coaching but just talking to them. I wanted to skate so bad that talking to them it took my mind off it. It worked a little bit, they both qualified. So we'll see how it plays out at this stop.
Who do you see as your heaviest competition at the Street League events?
I mean, look at the list. You can read every one of those names and everyone has a shot. Obviously, Nyjah is gonna do well; the kid is insane. But that's what's cool about this contest. Someone has their best day and they could win. Dylan Rieder could win, easily. Or Mikey or Mike Mo, or any of them. Anybody that has a good day could take it.
Is there any one thing that's key to your contest strategy that works well for Street League?
I'm kind of on the same strategy as everybody else: just don't fall. But obviously, that doesn't happen all the time. Hopefully, I can get lucky.