Stoked Awards NYC
The night recognized those who have contributed to the action sports mentor program -- and also raised $20,000 from attendees
Stoked Mentoring held its third annual Stoked Awards event in New York City last week. One of the most positive movements in shred, Stoked was founded by Sal Masekela and Steve Larosiliere with the goal of impacting disadvantaged youth through participation in snowboarding, skateboarding and surfing. In only a few years Stoked has been able to generate global support from athletes, brands, and everyday rippers, and the award show was a chance to reflect back on challenges, celebrate successes and honor some individuals who made a difference this year.
A diverse crowd that ranged from snowboarding model Joy Bryant to Trevor Andrew to one group of women who kept exclaiming that "they just loved charity events" mingled around a silent auction before Masekela brought the event into focus.
Animated and emotional, Masekela presented the award for the 2009 Volunteer of the Year to Dan Bealey, a snowboarding mentor from Vermont whose extremely brief and humble thank you was a perfect segue to the tear jerker acceptance speech that mentee Erick Tobar gave after he and his mentor Jonathan Drubner were named Mentor Pair of the Year.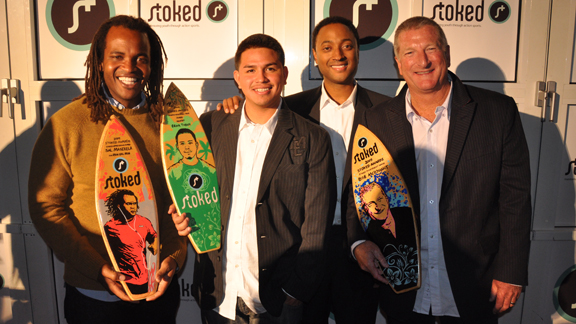 Tim BrodhagenSal Masekela, mentee Erick Tobar, Stoked founder Steve Larosiliere, and 2009 Achievement Award recipient, Quiksilver CEO Bob McKnight.

It was incredible to watch these kids talk about their lives opening because of riding or skating. I'm a believer -- everything in my life came from snowboarding.
--Trevor Andrew
Tobar, teetering on tears himself, explained that he had not been able to connect with friends, family or even society at large for the majority of his life, and had reached a point of desperation bordering on total defeat until he was identified by Stoked and taught to surf and skate with Drubner. As he explained the bond created with Drubner and others through those activities had given him a sense of family for the first time in his life there was literally not a single person in the room who wasn't feeling the power of his experience.
The mood lightened momentarily as Quiksilver CEO Bob McKnight was given a 2009 Achievement Award but emotions roiled again during a special presentation about Masekela's recent run of the New York Marathon (see clip), which raised $80,000 for Stoked, with large contributions coming from rapper Diddy, singer Justin Timberlake, and skaters Tony Hawk and Rob Dyrdek. With so much love in the air it took little effort for Sal to then get award attendees to pledge an additional $20,000 to complete his pre-marathon goal of $100,000.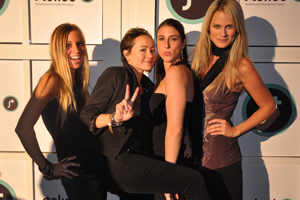 Tim BrodhagenThe event raised an additional $20,000 to top off the $80,000 Sal Masekela raised running the NYC Marathon.
"It was a crazy inspirational event that made everyone want to get involved in some capacity," said Trevor Andrew. "Especially after seeing Sal and that kid get so emotional -- it was amazing to see what happened. Being a snowboarder and skateboarder and knowing how that stuff changed my life, knowing it literally took me around the world and exposed me to everything in my world, from my friends to my music, it was incredible to watch these kids talk about their lives opening because of riding or skating. I'm a believer -- everything in my life came from snowboarding."
Andrew was one in the crowd moved to an on-the-spot donation. Once the business was all taken care of, New York's DJ Jayceeoh hit the room with a special pro-bono set. Stoked is constantly looking for support -- go to Stoked.org to learn about getting involved.
RELATED CONTENT

Here at ESPN, we've got all things snowboarding covered. Check out some of our other content.
ALSO SEE
Other Articles by Tim Brodhagen:
MORE ACTION SPORTS HEADLINES
MOST SENT STORIES ON ESPN.COM