The end of the Arctic Challenge
Americans sweep at the Scandinavian event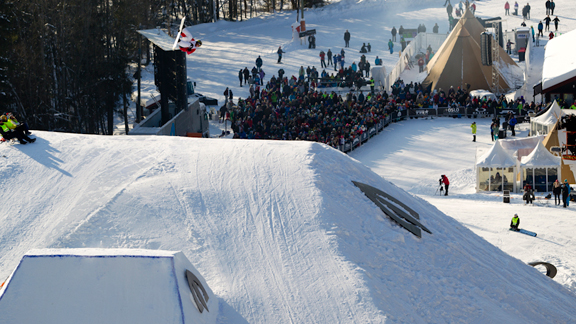 Adam MoranIn the background behind Chas G's double rodeo flip is the VIP teepee, inside which there are no energy drinks. There is, however, delicious reindeer.
Walking up to the course today I came across one of the judges standing outside, admiring the sun that -- after days of spitting snow and flight light -- was glinting off the jumps, and also the riding of Jamie Anderson, who was popping down over them.
"She's just got so much style," he said. "I think she's probably going to win."
2011 Oakley Arctic Challenge
When a judge predicts that someone is going to win an event, it's probably a safe bet that he or she will. I would call it bias, except for this: Jamie Anderson is so visibly comfortable on her snowboard, it would be hard to argue that she doesn't deserve to win ... almost every single contest she enters.
Still, I circled back around to the judges zone after Cheryl Maas threw two stomped 7s into her run and didn't make the podium. I, like many women writing about snowboard competitions, want desperately to say that a women's slopestyle contest came down to a battle of 7s, 9s and 10s. And we're so close. Why did the judges deny my opportunity to write that the contest was won with 7s, on a course with no women's tee?
Because, the head judge replied. Maas winds up her spins and grabs her board late, and Anderson was hitting the massive jumps full speed, switch, and locking in her grab and rotation through her entire 540. It's about style. That's the direction snowboarding should go, and that's what gets scored the highest at the Oakley Arctic Challenge.
The judges love Tyler Flanagan's style, too. And it's interesting to see a run without 12s score as high as his did, simply because Flanagan looks so good in the air. But Chas Guldemond rides pretty smooth, too, and cab 1260s and double rodeos in his run. Still, he only beat Flanagan by .2 of a point.
Really, it's hard to argue that any of the guys who made the finals today don't have good style. The ones who didn't make the podium had minor hiccups in their runs. Even after the contest is over, and the scores have been set in stone, the judges are still arguing amongst themselves about who should have placed first through fifth and in what order, and if they scored everything right. The margins of difference between the skill level of all these riders is so small now you can barely see it. It would be a hard thing to be a judge here.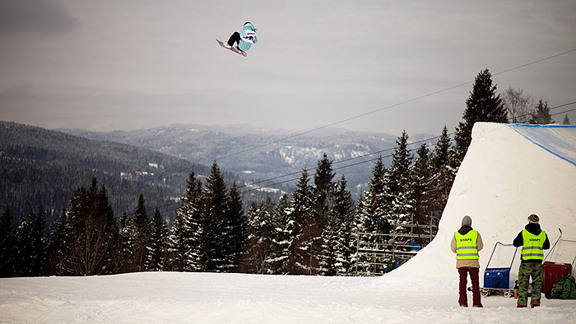 TOACJamie Anderson, switch backside 540.
"I think I just landed my run clean," said Guldemond of his win. "I couldn't be happier. I'm so stoked to be in Norway. It's always been one of my dreams to win the Arctic Challenge and here I am. I feel really lucky."
The injured reserve list is stacking up at this point in the season. Mikkel Bang is out with a broken ankle. There's a hurt rib trifecta: Seb Toutant hurt his at the Air & Style. Torstein Horgmo has been all over the television here in Norway, but after a season of riding with a cracked rib, finally decided to sit a contest out. Last year's Arctic Challenge and TTR World Tour winner Peetu Piiroinen also has a hurt rib, but apparently it only is keeping him out of slopestyle contests, where he has to spin both frontside and backside. One direction doesn't hurt him as much, so he still enters big air comps, where he only has to spin one way. Grilo and Staale Sandbech have bruised heels and also had to sit this comp out.
Maybe the TTR World Champion title shouldn't be awarded to the rider with the most points this year, but to the guy who's still standing at the end of March.
Next year, snowboarding's version of the World Snowboarding Championships will be held in Oslo at this time in place of the Oakley Arctic Challenge. What will happen after that? Will the Arctic Challenge return? What form will it take if it does? All we really know is that at this point in time in Norway, we're witnessing the end of an era, and the dawn of a new one. What shape it will take is anybody's guess.
Let the games begin.
Men's Final Results
| Rank | Name | Score |
| --- | --- | --- |
| 1 | Chas Guldemond | 89.1 |
| 2 | Tyler Flanagan | 88.9 |
| 3 | Sage Kotsenburg | 86.4 |
| 4 | Seppe Smits | 84.9 |
Women's Final Results
| Rank | Name | Score |
| --- | --- | --- |
| 1 | Jamie Anderson | 87.4 |
| 2 | Spencer O'Brien | 85.1 |
| 3 | Jenny Jones | 75.7 |
| 4 | Cheryl Maas | 75.2 |
| 5 | Thea Stenshagen | 68.7 |
Follow Melissa Larsen on Twitter: @melissalarsen
ALSO SEE

The TTR World Tour is over. We've got your season of coverage right here.
---
TTR 6Star
Burton U.S. Open of Snowboarding
The Oakley Arctic Challenge
Air & Style Munich
Air & Style Innsbruck
Burton European Open
O'Neill Evolution
Air & Style Beijing
---
TTR 5Star
---
Winter X
---
Related Stories
---
Videos
---
The Road to the Olympics
Snowboarding home | Action Sports home
MORE ACTION SPORTS HEADLINES
MOST SENT STORIES ON ESPN.COM