"It started because I didn't think kids knew who paved the way," Krush Kaluza tells me while we're standing on the deck of the Holy Oly quarterpipe. "They didn't know what was going on here."
Holy Oly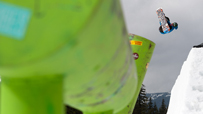 WIDTH="203" HEIGHT="114" BORDER="0" ALT="">
Check out photos from Washington's Holy Oly. Gallery

Classic old-guy grumblings, right? How many times have you heard it? 'The kids these days ... No respect for their elders or the roots for snowboarding ... They don't even know who Terje is.'
But that's not Kaluza. He's a doer. And so, eight years ago, rather than simply look down his nose at all the clueless groms, he started the Holy Oly. "We just wanted to create an event that was an ode to the past, while looking to the future, happening now," says Kaluza. "How deep is that?"
No kidding. Looking around on Saturday at Washington's Hyak, at Summit at Snoqualmie, I see OG Northwest legends like Joey McGuire, Todd Schlosser and Jamie Lynn. Peter Line is dropping in and his song from Mack Dawg's Simple Pleasures is playing over the loud speakers. Crazy.
Oh and there's Lando, Pat McCarthy and Shaun McKay watching all the young bucks like Austin Hironaka, Andy Bergen Sperry, Scotty Wittzle, Bart Pattitucci. We're all lounging around in the snow. Kids are sliding on their stomachs in the slush and there are puppies running around. It feels more like a festival than a snowboard contest. I see lots of cans hidden in gloves and I bet someone has bottle rockets.
I'm guessing almost everyone in attendance was also at the Legendary Banked Slalom. This is like that. Except there's a quarterpipe and it's massive. It's the biggest Holy Oly quarter to date, but there are a couple kinks in the tranny, so really blasting takes full-tilt commitment. That means pointing it from the oversized faux-Oly can. No speed checks.
Jason Robinson admits he was having trouble dialing in the speed, or really just convincing himself to go even faster at that 30 foot wall of snow. "Yeah, I had to follow someone into it just so I'd get the speed right and I followed Hironaka, cuz I knew he wouldn't speed check," says Robinson.
Hironaka's loose. You've got to be to do well at the Holy Oly. It's some kinda of scene: sketchy for sure, too much shredding to keep up with. What with about 60 riders all trying to find their own lines, snaking, squeaking and screaming past each other. And then there are the snow skaters who showed all the snowboarders what loose really was. I swear it looked a bit like gladiator boarding. Kurt Jenson compared it to skating Burnside.
"You had to really work for it," says Jenson. "I was so over it at first, but then I decided to embrace the gnarliness."
That was the name of the game on Saturday. There wasn't any easy way up that quarterpipe and a lot of the riders found their way to the bottom of it pretty quickly. "Some of the guys at the top were calling it the quarterpipe cradle," said Jenson. "It was wild. It almost had over-vert. It was kind of like riding pool tranny."
Not everyone was down to dive into that deep end and on Saturday -- there were probably only a dozen or so riders really hitting that QP hard. Most of the snowboarders on hand stuck to the rails in Tube City and the mini and much mellower quarterpipe. Not Andy Bergen-Sperry, he rode it all and sounded satisfied to be so exhausted at the end of the day. "You gotta ride hard at the Holy Oly because it's the only time of the year you get to hit this stuff," Bergen-Sperry said.
Here's who was awarded for their riding.
2011 Holy Oly Awards
NW Method Award: Scotty Witsil

Mayor of Tube City: Forest Bailey

Future of NW Shred Award: Bart Patitucci

Highest Air: Jay Kelly

Jean Claude Land-Am: Stephan Krumm

Holy Diver: Dan Manning

Best Trick: Matt Wainhouse (frontside 900 tail grab)

Holiest of the Holy: Manuel Diaz

Where you been: Allister Schultz