Preview
Day 1
Day 2
Double Cork 12
When we all get home from this contest, people will ask: How was China? Many of us, I imagine, will have the some of the same answers. The winter air is a bit brisk; the smog is as thick as they say it is; the black market shopping experience is as crazy and entertaining as you'd imagine it to be. But it's a bit like asking someone who spent a week in Beverly Hills what the United States was like. Everyone attending this event is staying in the same hotel that was commandeered by George Bush during the Beijing Olympics. He was the first guest -- it is that new.
Those of us who have been slower to adjust to the somewhat overwhelming plus-13 to plus-16 hour time change are finding the many high tech features of our accommodations to be a cleverly disguised series of mental challenges that we are mostly losing. Sometimes it's entertaining, sometimes you just have to softly cry in the dark because sleep deprivation has made it impossible to figure out what sequence of buttons makes the lights turn on.
What's up with China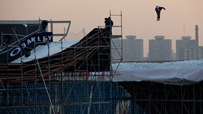 WIDTH="203" HEIGHT="114" BORDER="0" ALT="">
Sometimes when words fail you, pictures come to the rescue and tell a better story Gallery

At breakfast this morning, Seppe Smits (Innsbruck's 09 Rookie Challenge winner) said that it's one of the worst cases of jetlag he's ever experienced. I can barely type my name, much less this blog. I can't imagine having to step on a snowboard. There have been a couple spills. Kevin Backstrom, here as an alternate for the competition, was holding his arm as we arrived at practice this afternoon. Rumor has it he's broken it. It could be because he was one of the last ones out last night. Most of the riders seem fairly happy with the jump. Mikkel Bang and Scotty Lago just always seem happy. When we left, Bang had his arm around a resting Marko Grilc -- who he's matched up with in the first round head-to-head tomorrow night -- telling him it was time to "go jumping with us." If there's a bad attitude or mean disposition among this entire group of riders, I've yet to see it.
We watched Halldor Helgason throw a series of stylie straight airs for a bit before someone explained that he hardly ever does more than that during big-air practices. At most he'll spin a three. Apparently he was doing all straight airs before he went and won the Winter X Big Air gold last year, so it must be working for him.
The most unnerving thing about being at the practice so far has been the music the stage techs are using to sound check the concert speakers. (Oh, who's playing, you ask? Just this guy ... Can't figure out if this is a car commercial or not...) You know that one super old song by Tracy Chapman, where she sings a capella about listening to her neighbor get beaten? Imagine having that blow your eardrums out while you're strapping in. Wow, I'm just so excited to do a little dance and then hit this jump right now! Pretty sure I heard the Bee Gees a couple times, too. And then there are those moments where you casually look up and notice a swinging, Rolling Stones-sized rack of stadium concert lights being wenched about your head with what appear to be climbing ropes. They definitely have their own way of doing things here in China.