The third and last of this season's TTR 6 Star Air & Style contests just came to an end. With last week's winner Mark McMorris in Utah for the final Dew Tour stop it was about time for current TTR World Champion Peetu Piiroinen to shine. After so many second and third place finishes this year, the Fin took first place with a huge Cab 12 mute on the kicker and a blunt danish on the down rail in the stair section and earned himself the biggest part of the 75,000 dollar prize purse.
"This Air & Style was so good to me," said Piiroinen. "I did all three this year and got fifth in Beijing and second in Innsbruck --so I got better step by step. It feels amazing."
Air & Style Munich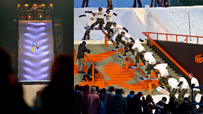 WIDTH="203" HEIGHT="114" BORDER="0" ALT="">
The picture show. Launch gallery

Seppe Smits did a near flawless cab 12 as well, but got a lower score for his front-board pretzel on the down rail and came in second. Halldor Helgason completed the podium with a backside 10 double cork, followed by a 180 Switch 50/50 180 out on the down rail.
Helgason decided to try double backside rodeo 10 Japans tonight. He didn't land any -- one he brought around to 12 before crashing -- but it didn't matter. The trick looked so smooth, and was so original that he still walked away with the viewer's choice award for Most Stylish Rider.
Both Smits and fourth-place finisher Nils Arvidsson did 1440s. Arvidsson crashed on his frontside 14, and Smits dragged a hand on his cab 14. Mason Aguirre, who got knocked out in the first round by Smits said that a few years ago they used to say "why don't you do a 1440 and win this" as a joke during contests. Now, on the third contest we've seen a 14 landed in, judges are already knocking off points for landings that are less than perfect. So that happened.
The Air & Syle format is a head-to-head knock out in which riders get three runs -- best score counts. Riders draw for the first round matchup. Sage Kotsenburg who threw out big favorite Seb Toutant last week in Innsbruck, picked Norwegian Ulrik Badertscher this time around, and found out how Seb felt last week.
Local rider Ethan Morgan kicked the contest off, dropping in first to the screams of 16,000 people who then went even more nuts when he knocked out Iouri Podladtchikov with a perfect backside 12 double cork. Seb Toutant bruised a rip on the staircase in training and had to get a cortisone shot to compete.
Tonight's event got started with the final rail jam of the Nike 6.0 Stairset Battle Tour. Qualifying events have been held throughout Europe all season, and nine winners from these got to compete with invited riders like Keegan Valaika and Eiki Helgason.
Mike Casanova who has been winning most of the contest he has entered over the last years, did what he does best: Win rail contests. His textbook hard-way Cab 270 back lip moved him up the ladder all the way, just in front of UK-rookie Jamie Nichols who got second with a blunt danish 50/50 backside 180 out and Forrest Bailey who came in third.
Air & Style Munich Super Final Winners