While all eyes were focused on the lead-up to the Olympics in 2010, the rest of the snowboard world went quietly about its business. We can't claim these were the biggest things happening in snowboarding last year (for Olympic-year highlights, click here) but looking back, these are some of the things that made us the most excited.
Snowboarding
No matter if you're the plan-every-turn-on-the-lift kind of guy or gal, the no-wait-for-no-one-no-how schussbomber, the leave-no-nub-unjibbed multi-shredder, or the chairlifts-are-murder splitboard mountain goat, snowboarding is, above all, fun.
It was a good year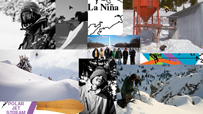 WIDTH="203" HEIGHT="114" BORDER="0" ALT="">
Reflecting back on the other things, besides the Olympics, that happened in 2010. Gallery

And while 2010 may well have been "snowboarding's biggest year," we think it's important to remember that, though they can't all be pow days and we may not be sticking double cork 12s anytime soon (ever), the feeling that comes when you enter the white room, slink through shoulder-wide trees at speed or stare down the blind side of a big drop is something to recognize and overindulge. Even when it shatters your bones and dignity, truth is, snowboarding always has your back, and that's not something that can be contained in a trophy room or valued on a big check.
So apply liberally. Coddle your snowboard like it's the best thing that's ever happened to you. Tell it you'll never leave its side and that you'll only trade it in for a new model when it starts to act old. Apologize for the repeated abuse, give it a good coat of wax and tell it it's only because you love it. Then go shred, however you see fit -- because every day's a good day when it's spent "just" snowboarding.
Kazuhiro Kokubo
When dreaded Japanese pipe slayer Kazuhiro Kokubo left his shirt untucked and pants sagged while rolling into the 2010 Winter Olympics, his reward was a ban from the Opening Ceremonies, and a home country that was really, really mad at him. And his press conference afterward clearly wasn't as self-flagellating as some conservative officials would have liked. The 22 year-old's stylistic choices while wearing his nation's uniform might have been a punk attempt to remind the world that snowboarders aren't so good with rules, bro, or an insistence on upholding his own image, but the two-time Olympian's style in the air is what punters should really be talking about. Here, he truly stands alone: His crowd-pleasing chicken wing McTwists in pipe comps are famous. The ridiculously smooth use of natural gaps and rock wall rides visible in his limited video repertoire reveal a confidence in natural terrain that is stunning. Check his part in Seven Samurai and peep that unmatched air sense, those slow, skatey back threes, that ability to land on awkward trannies, and his sheer power when it comes to going big and landing strong. Plus, who doesn't love a "pipe rider" who can straight-up rip pow?
Torstein's triple cork
While the best of the best were out practicing double cork variations in order to rise to the top of the big air heap, Torstein Horgmo went and upped the ante with this triple. So far this is the only one we've seen landed on film, and the trick hasn't made it's way into the contest mix yet. Yet. But just like the old movie line, "If you build it, they will come," in snowboarding, if you can envision it, some day everyone will be able to do it, too. How long until everyone has a triple in their bag of tricks? Only time will tell. All we know is, if you're a little kid and you don't come from a long line of gymnasts, and you want to be a professional snowboarder someday: good luck with that.
Snowmaggedon
Officially speaking, it was the "First North American Blizzard of 2010" -- at least, it according to Wikipedia it was. Yeah, this storm has it's own Wikipedia page, it was that nasty. Some called it the Snowpacalypse. To others, it was "Snowmageddon." According to Wikipedia, "The Washington Post also popularized other portmanteaus, including "snOMG" and "kaisersnoze" (from movie character Keyser Soze), in response to the February snowstorms."
Although it started way out West, it dumped the hardest on the Eastern seaboard, dropping between 20 and 40 inches on Maryland, Virginia, Delaware, Pennsylvania, and the District of Columbia. But one man's natural disaster is another's opportunity, and all kinds of crews headed East to try and stack some clips in these snow-choked cities. Both Videograss and TransWorld ended up in our Nation's capitol for the storm, and as you'll see in their videos they made good on this act of God.
The Return of the King of the Hill
Back before most of us could understand snowboarding big mountains, let alone ride them, there was a group of sociopaths who headed to Valdez, Alaska every spring in order to confirm, amongst themselves, who the real King of the Hill was. A true no-holds-barred snowboard contest held in the legendary Chugach Range, the harder you cheated death, the more likely you were to win. In those days if you made it down without a separated pelvis you gained the respect of all. Eventually, the focus of snowboard hype turned from big-mountain riding to in your face contest and jib-focused extravaganzas, and the contest faded into obscurity.
But snowboard trends are cyclical, and we are experiencing another dynamic shift in perspective -- so in April 2010, The King of the Hill rose again, orchestrated by Tailgate Alaska mastermind, Mark Sullivan.

Every self-respecting pro with the means and the time found themselves peering down Bro Bowl atop Thompson Pass in AK last spring -- including one Travis Rice and at least three Olympians. With perfect conditions and a bluebird day, all that spirit of old and camaraderie that defines Alaskan freeriding coalesced into a contest homecoming for the ages. As for who won? Contest announcer Willie McMillon said it best: "When they handed Travis his bib in the morning they should have just given him the trophy at the same time."
Mas Mujeres
Women have been a part of snowboarding since as long as snowboarding has been around, so it only makes sense that they should be integrated into snowboard movies as well -- not as "token" females, but as a legitimate riders with worthy video parts. While one or two ripping females have always seemed to make it into mostly all-male snowboard movies over time, it's good to see more women stepping up with film segments that their male counterparts have been vocally proud of.
2010 saw an all-female segment in Standard Film's (Victoria Jealouse's old video stomping ground) "The Storming," featuring Leanne Pelosi, Erin Comstock, Hana Beaman and Raewyn Reid. Annie Boulanger and MFR also claimed screen time in Absinthe's "NowHere," and newcomer Jess Kimura killed it in Think Tank's "Right Brain, Left Brain." Peepshow also came in hard with a short, sweet all-female urban-shred video featuring Kimura, Laura Hadar and blood, which was a nice counterbalance to the dolled-up supermodel-image direction snowboard companies seem to be taking our girls in these days.
Deeper
Jeremy Jones has long inhabited a power niche of his own in snowboarding, defining big mountain riding for a generation. When he embarked on "Deeper," a two-year film project with Teton Gravity Research (a company founded by his brothers, incidentally), snowboarders everywhere held their breath in anticipation. Jones finally had an entire movie -- not just a killer part. And "Deeper" was that rare beast: a legitimate action movie with a message. As the premier big mountain assassin went about bagging huge peaks, obscure terrain, and once-in-a-lifetime lines that he and his crew accessed largely on foot and by split-board, his actions begged the question: "Are helicopters really necessary?"
"Deeper" is a film about total alpine immersion, getting deeper into the mountains and elements us cushy resort-goers often take for granted. With such off-the-beaten path experiences as sleeping atop peaks, all-night hikes, shred campsites 65 miles from civilization and storms lasting 10 days, "Deeper" gave snowboarding a shot of adventure it hadn't embraced in years. Just as he has done his entire career by continually challenging himself -- including by starting Protect Our Winters, his climate change non-profit -- Jeremy Jones has chosen to lead by example and it's up to the rest of us to see if we can keep up.
Easy Brisse
By grabbing the closing part in this year's Absinthe flick "NowHere," Dan Brisse, 26, reminded everyone that last year's bump in coverage was no fluke. His raw power, now-legendary work ethic, eye for original urban features, and terrain-versatility combine to make the SLC inhabitant impossible to ignore. The Capita pro says that his top three favorite shots in "NowHere" are his switch front board through the quad kink, the Cab 270 through another kink, and the frontside 5 over still-monstrous Chad's Gap. Originally hailing from Minnesota, where he maintains deep roots, Brisse keeps the Midwestern stereotype fully intact with his humble, appreciative outlook: "It's super rewarding to come away with a closing part after putting so much time and effort into building [it] over the winter. I know I couldn't have done it without all the support and help along the way ... so I make sure to realize this success is from everyone, and for everyone that helped out." Aw, shucks...
Wooden snowboards
Snowboarding has an interesting relationship with its own history. The constant drive to progress has propelled snowboarding, and snowboard design, forward at unimaginable rates -- but it has also created a myopic, permanently forward-facing perspective. That's why we're hyped on these "new" wooden snowboards by Powder Jets, Whitegold and Gentemstick. Now that every snowboard has triple reverse rocker/camber turbo-flux capacitor tech, to the point where even the most seasoned gear nerds are hard-pressed to explain what exactly it is their boards are designed to do, it's cool to see some companies taking it way back to our old school roots. Wooden snowboards feature original technology and style, wrapped up in modern, high-performance geometries -- ready to rip lines that no Burton Elite rider would've even thought they could ski. Strapping into one of these things is like stepping into the past, but without falling on your face.
La Niña
One of the most amusing parts of waiting for a winter to begin is listening to all the snow-addicts roll out their predictions for the upcoming snowboard season's snowfall. If the moss grows thicker on the north sides of the trees, or the caterpillars have a thicker-than-usual fuzz come fall, or the Farmer's Almanac says so, it's going to be a huge winter. Every year the same predictions, and every year the snow gods show their love of fickleness by either delivering or holding back the powder bounty. But when scientists at the NOAA got in the prediction game this September, it was hard not to pay attention.
"We are quite confident that this will be a La Niña winter," said NOAA meteorologist, David Unger, forecasting above-average precipitation in the west, based on La Niña patterns in the past. And then in October, the west coast snow hammer began to fall, and it hasn't stopped pounding since. Jackson Hole, Wyoming had a 100-percent opening for the first time on record, the California Sierras have been hit with so much snow (Mammoth claimed the most snow in the worldon Dec. 21) it's a wonder people in Mammoth and Tahoe can still get into their houses without having to go in through the 2nd floor windows. Rail kids from Utah to Minnesota have rejoiced in the plethora of kicker takeoffs and snow landings newly-available at their favorite school-yard jibs, and up in Oregon resorts have been turning away cars so many people want to come play in the new snow. And more storms are swirling off the coast, seemingly without end.
So as 2011 looms bright in our future, let's all take a bow to Mother Nature in thanks. Happy New Powder Year everyone!