Snowboard coverage
Ski coverage
Dew Tour Killington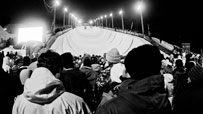 WIDTH="203" HEIGHT="114" BORDER="0" ALT="">
Photos from the Vermont stop of the Winter Dew Tour. Gallery

A competition-winning second-run score of 96.75 from Iouri Podladtchikov was enough to hold off runner-up Louie Vito in Sunday's men's snowboard superpipe finals at the Winter Dew Tour stop at Killington, Vermont.
Vito, who posted a first-run 94.75, held a comfortable lead through much of the two-round finals until Podladtchikov dropped in, linked a cab 7, crippler, back double McTwist 12, front 10, and cab 10 to snatch the lead.
Vito waited to drop in as Podladtchikov's 96.75 was announced. Under pressure, Vito dialed up a stellar run, stomping a double crippler, back 5, front double 10, cab double 10, into a final front 10. The crowd erupted, then fell silent again, awaiting Vito's score, which was 95.25.
"I like the pressure, but I guess I didn't like it enough," Vito said of his second-place run. Vito, who's second place finish bested Podladtchikov's third at the Dew Tour stop in Breckenridge, now falls two points behind Podladtchikov in the chase for the Dew Cup.
"It felt great to battle it out with Louie one more time," Podladtchikov said.
Steamboat Springs, Colo., native Matt Ladley corrected a first-run fall to post a second-run 89.00, highlighted by a massive first-hit back 5, good enough to secure a third place finish.
2012 Killington Dew Tour, Men's Snowboard Superpipe Men's Results
Snowboard Slopestyle finals
Eric Willett took home first place in slopestyle at today's Dew Tour stop in Killington, Vermont. He posted a first-run score of 91.00 amid tough, snowy conditions that took out many of the contest's other top contenders. Willett's score was enough to hold off Sebastien Toutant and Breckenridge resident Justin Morgan, who took second and third, respectively.
Attacking the upper rail section with front 270 front board and gap front lip 270, Willett, spun through the jump line with a switch back 10 double, cab 9 double, and a front 10 double, en route to his first place finish. Toutant answered with a backside180 cab to 180 out, gap front lip 270 out, front board to fakie off the cannon to cab 9 double cork, front 10 double to back 10 double on the jumps. His score of 85.50 was enough to get him second place.
Today's finish, along with Toutant's second-place in Breckenridge, has made him the new front-runner for the Dew Cup. Morgan finished in third with a double rodeo 9 to front 10. This was Morgan's first-ever professional podium.
Today's weather conditions took a toll on the field, with a majority or riders knuckling, reverting, or washing out on a tightly-spaced three-jump section. Any loss in speed between jumps effectively wiped out a riders chance of posting a podium-worthy run.
"The speed was different on every single jump," said Willett. "You had to take different speed into each one and go for it. It worked out. I just wanted to be able to land a run, I got down to the bottom and saw that I scored a 91! I am stoked for sure."
There was no women's slope event at this stop of the Dew Tour. The ladies will be back for the final stop in Utah February 9.
2012 Killington Dew Tour, Men's Snowboard Slopestyle Men's Results