30 Years of Awesome
Slopestyle
Halfpipe
This week, March 5-11, marks the 30th anniversary of snowboarding's longest-running major contest: The U.S. Open. Before there was snowboarding in the Olympics, before the X Games or Dew Tour or snowboarding video games or Shaun White gum or "Danny & The Dingo," the U.S. Open was there, holding it down as the sport's marquee event and primary bragging right.
Thirty Years of Style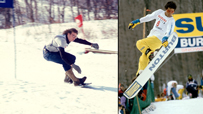 The Grungy Gentleman takes a look back at some old school U.S. Open style highlights. Gallery

Names such as Craig Kelly, Terje Haakonsen, Jeff Brushie, Janna Meyen and Kazu Kokubo became domesticated largely because of making an impression at the Open. The Burton-led contest marks a crucial gathering of the tribe in early spring and acts as a kind of punctuation on a busy competitive season.
Mix one part "Super Troopers" with equal parts open-container law violations and some of the best competitive snowboarding of the season and you have that heady cocktail known as The Open.
It's a series now, with events in Canada, Europe and New Zealand, but when a shredder says "The Open" you know she's talking about Stratton, Vt., home of the $18 chicken burrito.
It began in 1982 with an upside-down kitchen table as a starting gate and a downhill race at Suicide Six, Vt., and morphed into its current freestyle-based, Stratton format in '85. Big Air, Slopestyle, Rail Jams and Quarterpipe competitions have all made an appearance at the Open, depending on the zeitgeist, but with the first halfpipe in '88 -- dug by hand -- the Stratton pipe has been the focal point for a quarter of a century.
Any rider who was around in the early 1990s remembers seeing shots of a big yellow backhoe digging tranny from the deck down and wondering if machine-dug pipes were, indeed, the future. (They were.)
U.S. Olympian Tricia Byrnes, who won the event at 17, says: "Simply put, if it wasn't for the U.S. Open I probably wouldn't be a snowboarder. Twenty-five years ago I stood on the sidelines and was inspired by the spirit of the sport, the flamboyant outfits and attitudes and camaraderie … The Open has always been about bringing the community of shred together for one last end-of-season hurrah and an event that showcased snowboarding well before it was lucrative or cool to outside media and the Olympic game."
The Open has a certain democracy about it and this has always been a big part of its core appeal. Women have competed alongside the men since Day 1 and the comp awards equal prizes to men and women. No-name guys from the backwoods of New Hampshire can step up to the pro model boys from SoCal and throw down in front of a huge crowd, TV cameras and the industry's most influential players. Curious folks from all over New England can roll up in their rusty, over-stickered Volvo wagons and check out the base-adjacent action for free and maybe meet a few new friends over a smuggled bottle of Boone's Farm or a bummed Winston.
This last element, the camaraderie that comes from thousands of folks traveling across the continent to snowboarding's spiritual home, Vermont, is the best part of the Open -- and the toughest aspect to pin down. There's a crustiness and earnest pride to New England riders that might come from icy landings and only a few powder days per season but, when given the chance to welcome world snowboarding to their back porch, nobody does it better. Nobody.
They are proud of their history and importance to snowboard culture and the Open is that once-a-year opportunity for the best riders to ditch Tahoe, Whistler and Utah lines for tail-tapping stumps on misty side runs and sending it big, day and night, in Stratton's petri dish.
Winning the TTR 6-Star U.S. Open is a sort of shorthand for being a "snowboarder's snowboarder" rather than any kind of media darling or one-trick pony. Jersey native Danny Kass holds the record for men with five wins, which is echoed on the women's side by Vermonter Kelly Clark's five (which she might beat this weekend, which would make her the winningest snowboarder in the event's history).
Japan's Kazu Kokubo won the pipe the past two years and, in so doing, reinforced the Open's association with rewarding true snowboarding style. The Junior Jam, for kids 14 and under, helped jumpstart numerous shred careers, including Pat Moore's, Hannah Teter's and Jake Blauvelt's, and groms from Shaun White to Kazu first made their riding known at Stratton.
"There are a million and one classic U.S. Open moments," recalls Byrnes, who still makes the yearly pilgrimage. "Abe Teter inventing pipe poaching; Todd Richards winning [while] looking like the fifth member of the Red Hot Chili Peppers; Janna Meyen winning in a one-piece purple get-up and perfect ponytail hair; watching some Norwegian wonder kid ride for the first time, etc.
"I guess it would be a contest of firsts and nowadays one of the few true [ones] that will continue to exist for the sole sake of snowboarding … If I hadn't won it at 17, I probably would have thought that snowboarding was just some 'hobby' and headed straight to school and square living. But that win really opened the possibility of a career and lifestyle in snowboarding, so thank God for the Open!"
From Pat Bridges' private, chicken wire-enclosed viewing "cage" on the deck of the pipe in '96 to occasional nude backflips from local yokels to hand-planting Cookie Monster-costumed pipe poachers, the U.S. Open always offers up real snowboarding, real raw. New names are made; reputations are won and lost. Cops in the valley do extra reps in the gym leading up to Open week. Savvy shreds rest their livers. (Irish riders treat the entire week as "training" for St. Patrick's Day, mind you.)
The heavy competitors who've made it to March without major injuries are on top of their games, looking for a big check from winning the Burton Global Open Series and the street cred that comes with winning the Open itself. What looks like just another mega contest is anything but. This here's the real deal.
If you can't make it to Stratton in person, check the Men's and Women's Finals live Friday and Saturday on Universal Sports or go to redbull.tv for live webcasts. We'll have coverage all weekend long right here.