When summer gloom sets in and the wave machine turns off in Southern California surfers look to the south for salvation. Frothing groms are no exception so when 14-year old Kanoa Igarashi saw a nice run of swell on the maps he called up three of his friends and planned a quick strike mission to Mexico. Despite growing up in Huntington Beach and having traveled all over the world, he'd been bombarded with drug war horror stories about Mexico for most of his young life and had never crossed the border before.
Gallery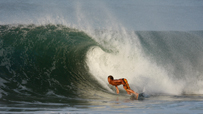 WIDTH="203" HEIGHT="114" BORDER="0" ALT="">
School's out and Mexico's made for summer surf trips. Gallery

Kanoa had just won the Under 18's and Governor's Cup at the Surfing America Championships and wanted to celebrate by going on a trip with Hawaiian friends who happened to be hanging with him in SoCal. So along for the ride were high flying Kauaian Jesse Guglielmana, 17, as well as Noa Mizuno of Oahu and Maui's Cody Young -- both powerful surfers despite only being 14.
All of the kids paid their own way and were shepherded by lifelong local David Ramirez. His relaxed, friendly, but always in control manner quickly allayed any anxiety the kids had about cruising around deep in Mexico. David's zone has seen a media frenzy over the last few years as scores of pros and recreational surfers from all over the world simultaneously discovered that the waves can get really, really good there. With tensions rising, taxes being levied on filmmakers and photographers, coastal plots of land being bought, surf camps sprouting up left and right, and crowds growing at the premier waves, it's going to be interesting to see what happens to the area over next few years.
None of the politics though were on the minds of the groms as they searched for surf. Each day they were greeted by a strong north trade wind that blows side shore at most of the well-known spots, and it sent them looking for protected zones in more remote locations. The kids tripped out on seeing cows on the beach during a quick boat-in scouting mission. Some of the places we went were so out of the way that David had never been to them before.
But it wasn't easy to escape the ever-present breeze. Of course what is "Devil Wind" to you or me is "Air Wind" for them and for most of their surfs they had the line ups to themselves. Campers and locals would gather on the beach to watch them take to the skies on waves that were nearly impossible to surf for the 99 percent of us who only know how to turn on the face and not soar above the lip.
After five days of non-stop airs at a point/jetty spot and tubes at a French style close to shore beachbreak, with heaping portions of stick to your ribs Mexican food at the house, fresh lobster, fish and giant oysters on the beach, and ice cream in between, the boys were tired and ready to head home. In the airport they quickly combed through photos and videos from the trip and started editing them into pieces that no doubt will be popping up on Vimeo and Youtube soon. Jesse, Cody and Noa went back to Hawaii and Kanoa is now on his way to visit Japan. It probably won't be long though before they reconnect and their thoughts drift to what lies to the south once again.