A secluded wave that breaks only on the biggest swells. Anything remotely under a 12-foot swell and it becomes merely a fishing lump, old men and crusty old locals plying the waters with no idea they are drifting over a piece of reef that transforms from tranquil ocean to a demented wall of water.
Gallery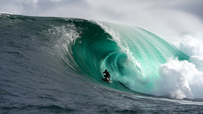 WIDTH="203" HEIGHT="114" BORDER="0" ALT="">
Charging hard at the West Oz mutant "The Right." Gallery

Stories of the resident Great White shark is the last thing you want to hear before heading out to sea, but we always manage to bump into someone that loves to remind us of the fact, just another component to consider while waiting for swells that travel the length of the Indian Ocean. At times it feels like all of that energy is directed to this secluded slab of reef.
There is no question the "Denmark lads" are a product of their environment, quiet, raw, loyal, and rough around the edges as we like to call it in Australia: Chris Ross, Ben Rufus, Chris Shanahan and a lost-in-Mexico at the moment Cale Grigson fit all these categories. Sitting in the channel watching the boys go about surfing a wave in their own backyard that has caused a few injuries and borderline drownings is a show worth selling tickets to; zero regard for their own safety as they completely toy with it. East Coast surfer Brett Burcher, after blowing out both eardrums on his second wave and subsequently became the ski driver for the paparazzi described this session as "the best surfing I have seen for a long time, they are treating those waves like it's a two-foot beachbreak." As you can see "The Right" is anything but a two-foot beachbreak.