It's been over a week since the Hurricane Sandy superstorm hit, and there is still no gas at our house. There might be electricity -- not sure. It doesn't matter. We're not even allowed to go back because it might blow up. And we consider ourselves lucky.
Houses belong in yards and boats belong in the water, not vice versa. It's all very screwed up and it's affecting millions of people, including the entire surf community in New York and New Jersey.
Hurricane Sandy, waves of destruction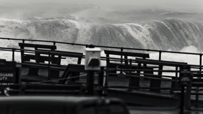 WIDTH="203" HEIGHT="114" BORDER="0" ALT="">
Sandy's wrath. Gallery

Two weeks ago, I wrote a little post called "A Tale of Two Storms." Florida was lighting up with epic surf, but Sandy was getting ready to throw this lunging right-handed haymaker at the Mid-Atlantic. I was ready to evacuate my family, assuming the worst. For some, it was worse than the worst.
Here's the thing. Tropical systems don't turn left above the Outer Banks. They might ping Virginia Beach or glance off Cape May, but they don't bear down and plow right into the coast. And as we know, this wasn't a simple tropical system. It was a crazed outlaw that mated with a massive evil low-pressure system to create the biggest maelstrom to ever smash this region.
Surfers tend to have a better grasp on these storms than the general population. Maybe it's the hours spent pouring over hurricane data all summer, waiting on the next great swell. And it was a great swell for Florida -- it will go down in East Coast history. It will be remembered up here as well, not for what it created, but for what it destroyed.
Winds peaked at 90 miles per hour. This doesn't sound like much compared to say, Katrina, but the coast endured above tropical storm force winds for longer and the barometric pressure was lower. We saw a nine-foot storm surge in some areas. Tunnels flooded, entire boatyards emptied out, and neighborhoods burned to the ground. Over a week later, there are still millions without power.
The damage is heartbreaking. And it's not people on the news or folks you don't know. So many waveriders and their families have suffered major loss. Sadly, when we reached out to compile a gallery, we learned that photographers were among the hardest hit. They didn't complain. They just documented the whole thing like champs.
But relief is on the way. Jon Rose of Waves4Water was here in a hot minute. When the good folks at Eastern Surf Mag (including photo ed emeritus/publisher, Dick 'Mez' Meseroll, a Jersey native, saw the devistation, they mobilized a U-Haul truck and started driving north, arranging to pick up donations from surf communities the whole way. They got 20 miles and the truck was full. Now there is a fleet of relief on the way.
"I was broken up for personal reasons. But once this thing was in motion, our editor, Nick McGregor just took over. He's been driving and coordinating. He's been just amazing," said Mez.
While the owners of grassroots apparel company, Jetty, still hadn't even seen their own homes, they created a hurricane relief t-shirt and have already made $100,000 to be donated to the cause.
And that's just the beginning. Billabong has a truck headed north from Virginia. Californian artists are building thesandyproject.org. ERGO has partnered with Restore the Shore and the list goes on. This place won't be the same. But it will come back. This is New York and New Jersey we're talking about here.