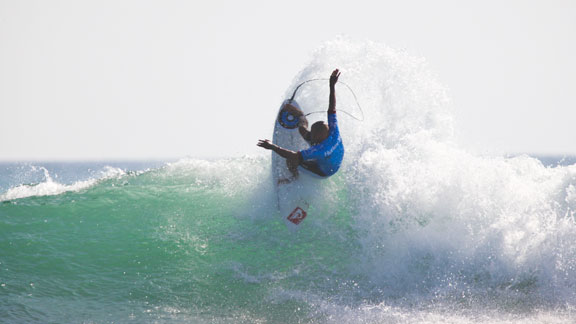 Tom Servais
Slater's disappointment at Trestles is destined to be a footnote in a season of potential upheaval. Launch Trestles Gallery »
The big story from the Hurley Pro this past week at Trestles in Southern California was not how Kelly Slater fell apart in Saturday's semifinal against Mick Fanning after looking every bit the form surfer through four days of competition. The nine-time and defending world champion has won here three times in nine tries, and his heat record was a remarkable 26-5 when the semis began. But even if he hadn't botched several waves uncharacteristically, Slater might have lost anyway—Fanning was the better surfer today and took down Dane Reynolds in the finals to prove it.
But the big story from Trestles was, in fact, a non-story. Specifically, more than two months after Slater's name was first linked to a proposed new tour that could rise and counter the current ASP World Tour, there remains frustratingly little to report on the matter. The only thing that's certain is that nothing is certain. Well, that, and that this is definitely, most emphatically, totally and without any question not "Slater's Tour."
Matt Tinley, one of the principals behind the so-called Champions Surf Tour, told Surfline's Marcus Sanders as much in July. A few weeks later, Slater himself told Australia Surfing Life's Tim Baker, followed quickly by Quiksilver CEO Bob McKnight's telling Transworld Business. And just in case it wasn't entirely clear, an interview request to Slater's management garnered this response: "Kelly is not involved in the formation of the new tour concept beyond likely being a participating surfer. … He has no formal ties to the new tour concept, no equity and no oversight."
It likely will be restated in some form or another after a recent L.A. Times article in which U.S. Open champion Brett Simpson wondered of the new tour, "I don't know if it's Kelly being selfish or what." That Slater paid Simpson the ultimate compliment by crushing him in their Round 3 matchup Tuesday and then telling the webcast how hard it was probably doesn't change Simpson's opinion on the matter. Currently No. 8 in the World Qualifying Series, Simpson can smell a spot on the 2010 World Tour.
No matter what happens, it seems as if competitive surfing is going to look different in 2010 than it did in 2009. Ultimately, change is coming.
So, we know it's not Slater's Tour. Still, the primary issues the Champions Surf Tour seeks to address—limited and uneven media distribution, prize purses that haven't budged in decades, outdated competition formats, and the number of surfers per event—are long-standing gripes of Slater's. He spoke of them with Lewis Samuels in May 2008. He told ESPN's Alyssa Roenigk as much in even greater detail this past May.
As of this week, ASP officials' party line continues to be that they don't know enough about the new tour to address it in any detail. According to executive Chris Stiepock of ESPN, which is in discussions with the Champions Surf Tour as the potential broadcast partner, the Champions Surf Tour has met twice with the ASP to lay out how the two sides might work together. And the surfers continue to toss around nervous bon mots about how, whatever happens, it should be good for surfing and that change is overdue.
Based on what little actual info is out there, three general scenarios remain the most likely ones:
1) The Champions Surf Tour fails to materialize because of a lack of sponsor and surfer support; the ASP goes into 2010 still the only game in town.
2) The Champions Surf Tour pulls together without any agreement being reached with the ASP; surfing is faced with a boxinglike dispute over which tour crowns the true world champion in 2010.
3) The Champions Surf Tour and the ASP find common ground and reorganize to create an ASP-sanctioned Champions Surf Tour.
The off-the-record buzz around Trestles was that some version of the third scenario is the most likely. But considering that the two meetings between the parties have produced little of consequence, that seems like wishful thinking at the moment. There's broad consensus among the surfers that Slater's concerns are legitimate but a collective inability to imagine what the world looks like behind Door No. 2.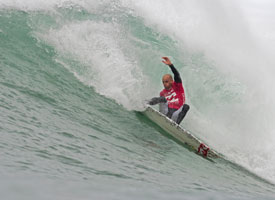 Kelly Cestari/ASP
Slater at J-Bay, after word of the Champions Surf Tour broke. Launch Trestles Gallery »
Even if Scenario 1 were the outcome, at the end of August, the ASP announced incremental changes that, although suspiciously vague, would still be a step in the right direction. They're boasting of an increased prize purse. The proposed unified points system with the WQS could allow them to limit the number of surfers in top-tier events without cutting surfers who are qualified for the current World Tour out of it altogether. ASP officials also have confirmed rumors of proposed changes to the way their board of directors is structured. The power wielded by the primary event sponsors is seen by many as the main reason the ASP has never been able to cut a major broadcast television deal or unify its webcasting platform. All these proposed changes will be on the table when the ASP board of directors meets the second week of October in Mundaka, Spain.
With Slater not talking to the media about the Champions Surf Tour, there's no way to know whether he would view such changes as sufficient or whether he believes the ASP has the fortitude to make them. We simply know that, as he told ASL's Baker, "My only hope is to create a better environment competitively for surfing."
No matter what happens, it seems as if competitive surfing is going to look different in 2010 than it did in 2009. Ultimately, change is coming. And that means, ultimately, that Slater wins.
But then again, he usually does, doesn't he?